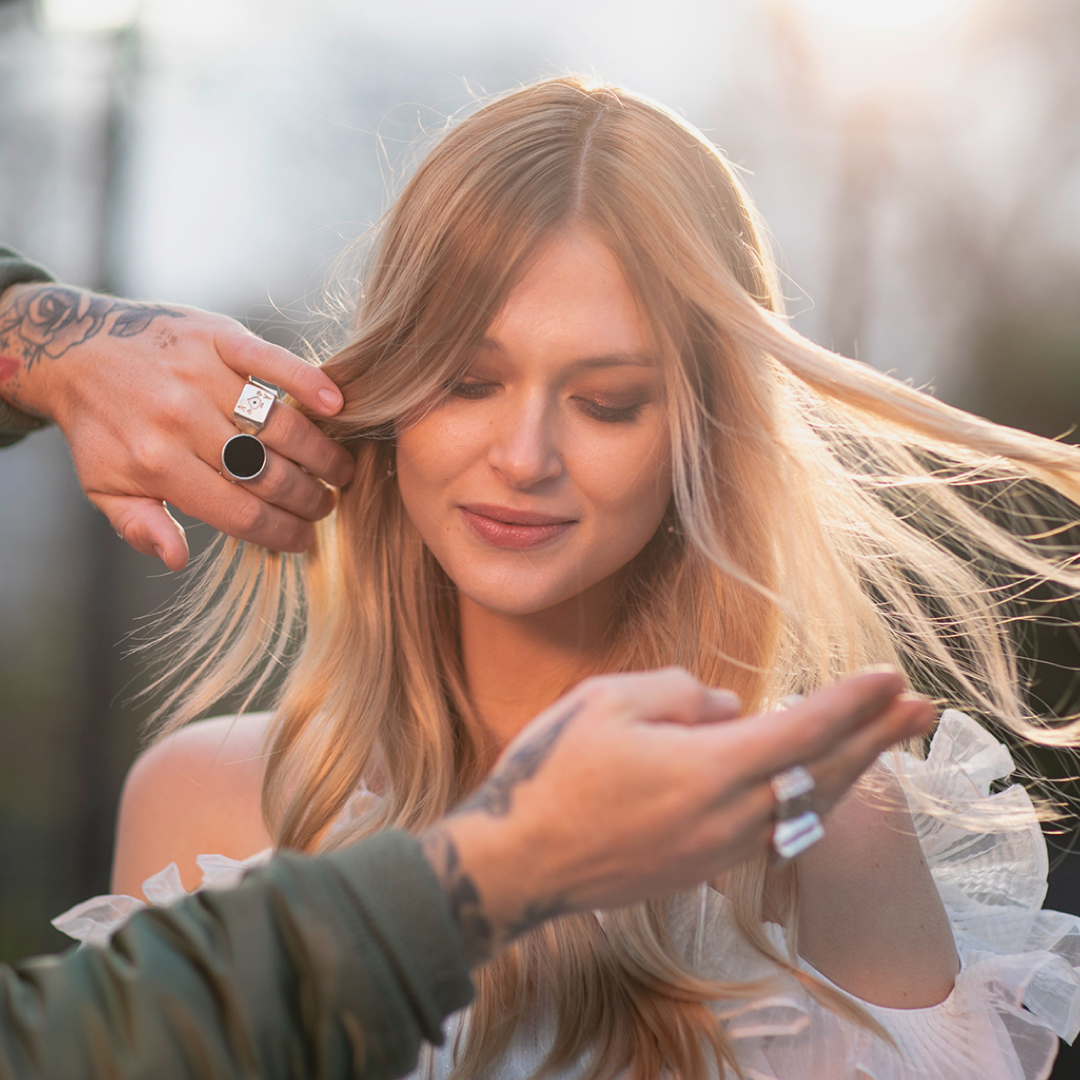 Winter can be harsh, on you, and your hair. It's no wonder we often emerge feeling our locks may need a little extra love. Follow our 6 top winter hair repair tips to bring the healthy shine back to your strands.
1: Give your Hair a Fresh Colour Boost
Rodney Wayne Creative Director Richard Kavanagh suggests, "Now is the perfect time to consider a new look. I'm loving the beautiful, French-inspired, multi-dimensional hair colour – Le Bronzing. It's the new Ombre, a softer, warmer looking colour achieved via a hand-painted French balayage technique. It's all about expressing yourself, and if that means the yourself of today is a slightly different version from yesterday, then let's do it!"
He adds "We know good colour doesn't just happen, it requires subtle crafting from an expert. Think of it like the 'no makeup' makeup look. This season's cool-girl inspired hair trends require extra work from your colourist to look as effortless as they appear".
The good news is that colouring your hair is no longer to the detriment of your hair health. The Rodney Wayne No Compromise Colour service is powered by L'Oreal Professionnel Smartbond. It's the treatment that's revolutionising hair and beauty. Developed after years of research, Smartbond is added by your hair technician into your colour or pre-lightener. It protects hair from damage and actually strengthens your hair during technical services. So you can look after your hair and achieve the look you want. Book your fresh colour now.
2: Get a Healthy Hair Cut
Channelling the French vibes, we are seeing bold new pixie cuts, a contrast of lengths such as long hair on top often paired with long side bangs or a shorter angled side fringe. These look great with a bright blonde or winter blonde that will allow you to change shades week by week or month about.
Not ready for a shorter cut? Opt for a professional trim from one of our expertly trained hairstylists to freshen your look and your locks.
Whether its blunt ends, effortless waves, a bespoke style, or a trim, visit one of our salons for a complimentary consultation to learn what would work best for you.
3: Moisturise Hair, Maximise Hair Health
Winter weather and indoor heating tends to strip moisture from your hair, leading to dryness that makes hair feel dull and difficult to style. To stay healthy during winter you have to keep the fluids up, it's the same for your hair. Winter dry hair calls for a rich, luxurious shampoo like Kérastase Nutritive Bain Magistral. Follow with Kerastase Nutritive Magistral Fondant to condition and restore moisture.
If you're blonde, protect your strands against oxidation and pollution with Kérastase Blond Absolu Bain Ultra-Violet. When used in conjunction with Kérastase Blond Absolu Cicaflash Intense Strengthening Conditioner your hair is 94% stronger, with the surface of your hair up to 46% smoother.
"If your hair is feeling lacklustre it could be a sign that you need to switch up your choice of shampoo and conditioner to ensure the best haircare for winter," Kav points out, "Try richer formulas in winter when the windy weather and artificial indoor heating can cause hair and scalp to become dry and lighter formulas in the summer when hair and scalp are often oilier.'
4: Winter Hair Needs Special Treatment
Hair treatment masks are a must to repair winter dry or damaged hair – these ultra-rich formulas give your hair an extra boost of moisture and nourishment. L'Oréal Professionnel Serie Expert Nutrifier Masque is ideal for restoring optimum moisture levels in dry hair. L'Oréal Professionnel Serie Expert Absolute Repair Masque repairs, strengthens and reconstructs both the core and the surface of your hair while also protecting against winter's damaging aggressors. Apply evenly throughout shampooed and towel-dried hair, then leave in for 3 to 5 minutes to target each part of your hair fibre according to its level of damage.
Indulge your hair in a moisturising hair mask treatment once or twice a week, or more frequently if your hair needs extra care. 
5: Give Your Hair a Good Night's Sleep
For the ultimate care for winter damaged hair, you can apply a treatment at the end of the day and let it work overnight. Kérastase Nutritive 8 Hour Magic Night Serum is a groundbreaking, intensive night serum designed to nourish and condition your hair while you sleep. Formulated with Iris root extract and a sumptuous blend of essential vitamins, the Nutritive Night Serum also has a beautiful fragrance which develops and evolves while you sleep. Simply apply to wet or dry hair, gently massage into your lengths and ends, then relax and leave overnight to nourish and replenish your hair. There's no need to rinse in the morning. 
6: Care for Your Hair at Home – The Smart Way
L'Oréal Professionnel Smartbond, we really can't rave about this enough. It strengthens the bonds within your hair, which can be exactly what you need to avoid and repair winter damage to your hair. While the Rodney Wayne No Compromise Colour service includes Smartbond to keep strands strong during colouring, you can also order Smartbond for at-home use. Try it once a week after shampooing to keep your hair feeling soft and shiny. Make it a Sunday night ritual!
Repair Your Hair – Earn Rewards
When you buy a product or service at a Rodney Wayne or shop at Shampoo 'n' Things you can earn Rodney Wayne Rewards. They're points that can go towards your hair services and hair care products. Plus you get access to special offers and exclusive professional quality products. So visit your Rodney Wayne salon or shop at Rodney Wayne Shampoo 'n' Things to restore your hair to its beautiful best, and earn rewards at the same time.
Please note, Rodney Wayne Rewards are not available for online sales.