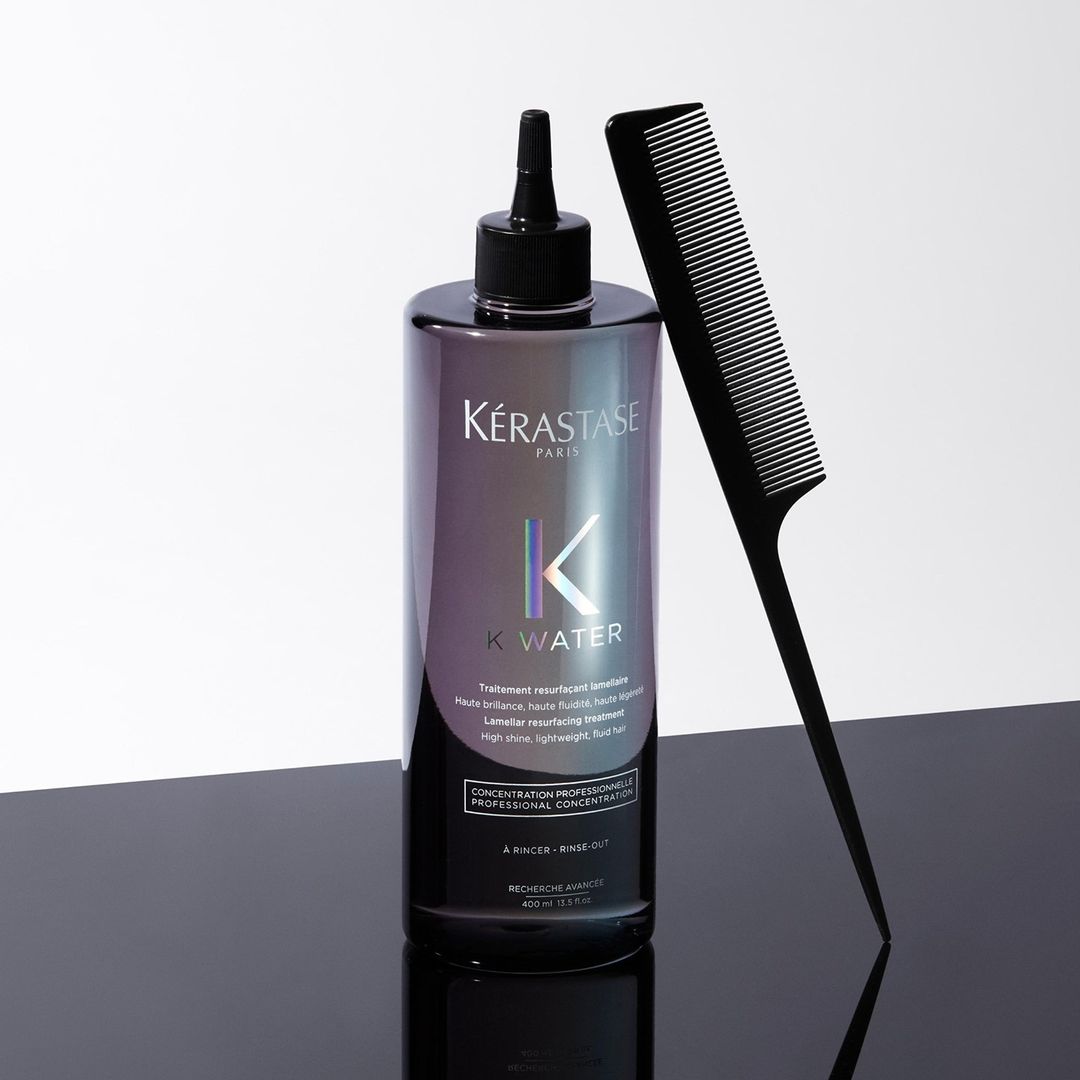 We all love the shine and deep care treatment that an in-salon ritual provides. Whether we have the treatment as part of a style or colour service or simply as way to make a blowdry more beautiful, there is often a consideration about the extra time involved. With lives feeling busier than ever before, many of us tend to miss out on the hair health, and beauty enhancements that rituals provide. Enter new Kérastase K Water.
Yes, if you want the luxurious gloss and repairing results an in-salon hair treatment can give you, but don't have the time, Kérastase K Water is your new hair hero. K Water gives you gorgeous glossy hair in a flash.
What is Kérastase K Water?
New Kérastase K Water is a glossing formula using advanced amino acid Lamellar technology. K Water instantly activates upon contact with water to create flawless, shiny hair by smoothing the hair fibre without weighing hair down.
Who can use Kérastase K Water?
Newton Cook, Rodney Wayne artistic and education director, describes the salon ritual as a "deep, caring and healing, shine-boosting treatment – suitable for all hair types", he explains that Kérastase K Water is "created to give you that much-desired glass hair look in mere moments."
How do you use Kérastase K Water?
Kérastase K Water in-salon ritual involves your stylist simply applying this revolutionary product to wet hair after your shampoo… then it is rinsed out before styling as usual. The effect is instant, leaving you with immediate results – sleek, fluid, shiny, beautiful hair without spending a minute longer in the salon than a shampoo and rinse. Damaged hair is protected from breakage, weightlessly fluid, easier to comb and with a soft-to-the-touch gleam.
When you don't have time to wait for deep treatments that take minutes to penetrate into the hair, K Water offers you the instant gratification of immediate shine. What's not to love about a gorgeous hair care ritual that doesn't require extra space in the diary?! And the K Water service costs from just $25 RSP with any other service.
Earn Rewards Rapidly too
As an added benefit, when you receive a service or shop at Rodney Wayne or Shampoo 'N' Things, you can earn Rodney Wayne Rewards*. They're points that go towards your in-salon hair regime and professional hair care products. And as a Rewards member, you'll also get access to special offers and exclusive product releases.
*Ts+Cs apply. Rodney Wayne Rewards are not available with online purchases.