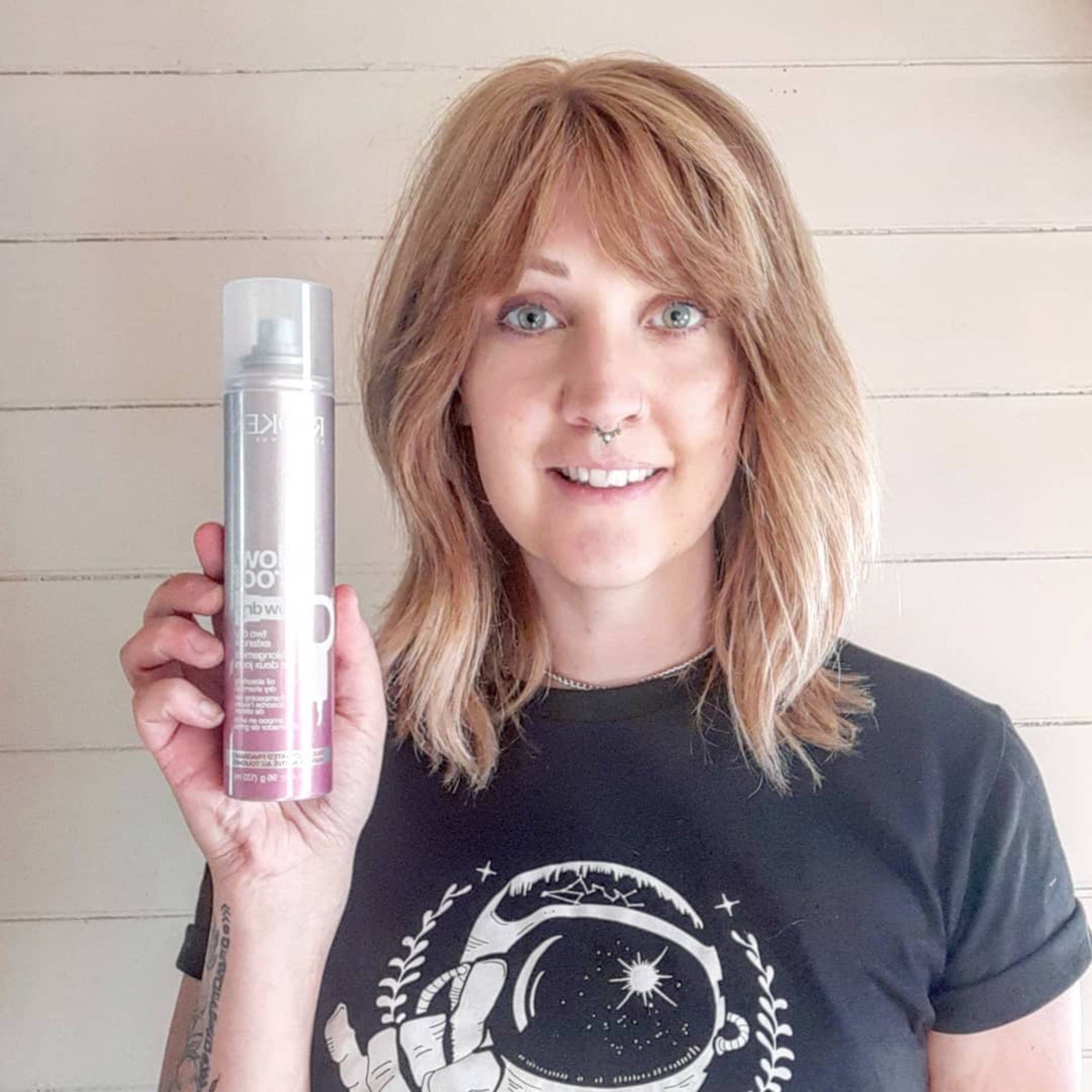 Does your hair need a little extra care? Like to know what hair products the experts use at home? The Rodney Wayne Artistic Team share some of their personal favourites… to help you show some quality love to your locks.
DAWN 
FAVOURITE PRODUCT: KÉRASTASE EXTENTIONISTE
I'm loving Kérastase Extentioniste Shampoo, Masque, as well as the Thermique and Serum. It's the best for keeping damaged hair strong, shiny and long. Think of it as strength training for your hair!
This range targets roots, lengths and ends. It stimulates the scalp, then gently detangles lengths while reinforcing and finally sealing ends for hair that is as full and strong at the tips as it is at the roots. For the best possible results team up with Extensioniste Protocole an in-salon treatment, which leaves your hair feeling like silk – and smelling amazing.
MILLY 
FAVOURITE PRODUCT: KÉRASTASE ELIXIR ULTIME
Oils were once only to be used on the thickest, driest of hair, but advances in formulations have meant even the finer haired lads and ladies don't get left out.
Formulated with a blend of Marula and camellia oils, Kérastase Elixir Ultime absorbs beautifully without leaving a tell-tale film on the hair as old-school serums and oils can.
A drop on damp or dry hair will provide hydration and softness without weight, however, my favourite way to use this when my hair is particularly parched (a common side effect of being faux blonde) is to apply three pumps onto dry hair in the evening, put an old t-shirt over my pillowcase to absorb any excess, and wake up in the morning with the softest hair imaginable!
If you have finer hair but want some hydration, apply as I do, leave in for an hour, then shampoo and condition an hour later. You will have all the nourishment without any weight!
KATE
FAVOURITE PRODUCT: PUREOLOGY BEST BLONDE
Being blonde can take a little bit of maintenance, trying to keep my blonde looking beautiful all the time. Since using Pureology I've noticed a huge difference in the way my colour looks; I feel like I've just left the salon! My colour looks brighter and more vibrant. The amazing thing about Pureology Best Blonde is it not only neutralises the warm tones but it also protects and repairs the strands so it doesn't leave your hair feeling dry or straw-like.
ANABEL
FAVOURITE PRODUCTS: KÉRASTASE EXTENSIONISTE & KÉRASTASE THERMIQUE
I love this range for looking after my long hair. Extentioniste shampoo feels so cleansing and nourishing, while the conditioner provides the detangling, silky-smooth results that keep my hair feeling healthy, strong and shiny.
Kérastase Thermique is my favourite thermal protection leave-in conditioner. Its an amazing care option for both styling (blow waving and hot tools) and extra care for the hair. It provides protein and nourishment, has detangling and smoothing benefits and heat protection up to 230°c for styling.
MELVIN
FAVOURITE PRODUCT: REDKEN REWIND
One of my most favourite hair products that I use all the time is Redken Rewind. This styling paste is light enough that it won't weigh down your hair but strong enough to let you play around with your hairstyle during the day. I find whether my hair is long or short as it is now, it always works for me. If I'm having a rough hair day Rewind helps me through it.
ABHI
FAVOURITE PRODUCTS: REDKEN ONE UNITED and REDKEN FASHION WAVES 07
Redken One United is my go-to product in the salon, for home hair care or photoshoots. This product improves the condition of every hair type. This one bottle has 25 benefits for hair including manageability, protection and beauty which makes this product my one-of-a-kind must-have.
My second go-to is Fashion Waves 07 (sea salt spray). This is for everyone out there who also loves texture, waves and movement. It's a lightweight spray which gives a medium control and matte finish, classic beachy wave look.
When layering product, I always apply the lightest one first, which is typically One United.
HANNAH
FAVOURITE PRODUCT: REDKEN PILLOW PROOF DRY SHAMPOO
One of my favourite products of all time is Redken Pillow Proof Dry Shampoo. If you've used a dry shampoo before you'll know what I'm talking about! It's great for hair on non-cleanse days to extend the time between shampoos. Also great after the gym, after a hot day or just to get some awesome dusty texture and volume! I wear wigs and don't like to shampoo them too often so Redken Pillow Proof Dry Shampoo helps me keep them in great condition and not looking lank. Of course it's also brilliant for natural hair, and all hair colours, as it dries clear.
NEWTON
FAVOURITE PRODUCT: GHD PLATINUM +
My favourite product at the moment is my ghd Platinum + styler. It's the most versatile tool, it can give you the curls, waves, smooth hair.
A lot of hair irons can get really hot on the outside, I don't find that at all with my ghd Platinum +, so when I'm curling or waving hair I'm not burning my fingers when holding my styler at the edge to secure the hair. I love the natural shine it gives hair, and I find the styles I create with it hold a lot longer.
FIND YOUR FAVE 
These are just a few of the Rodney Wayne Artistic Team's favourite hair products. Feel free to get in touch via Facebook or Instagram if you'd like to learn more.
You can order your favourite pro-quality haircare products online now for delivery right to your door.