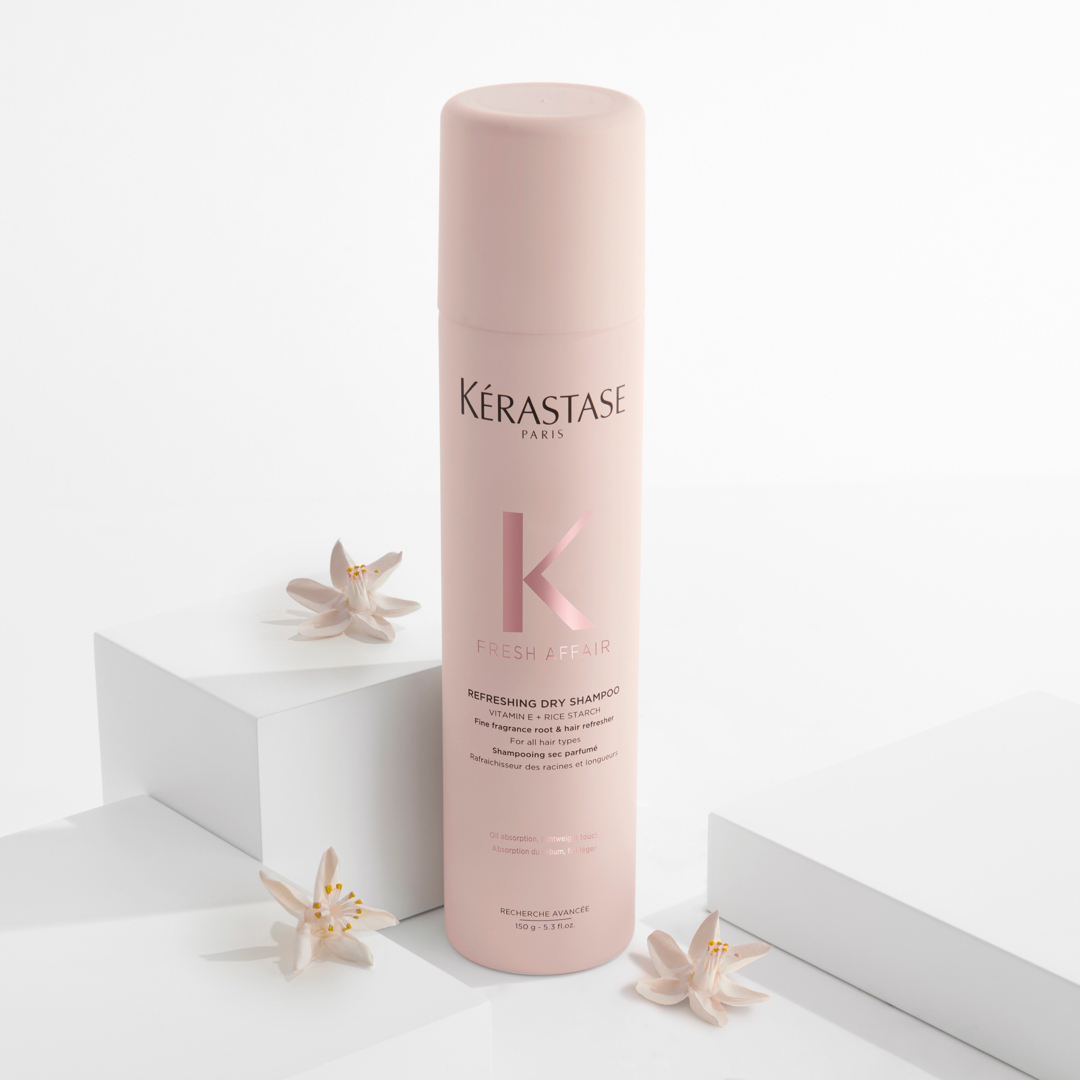 New Kérastase Fresh Affair Dry Shampoo is the bad-hair-day saviour that gets you back into beautiful form instantly. Perfect for when you don't have time to wash. And with a beautiful fragrance for which Kérastsase is famed, Fresh Affair is the ultimate hair saver. The fine citrus-floral fragrance created in collaboration with globally renowned perfumer Fabrice Pellegrin means when you freshen up your hair, you're in for an uplifting experience that lasts throughout the day.
Rodney Wayne Creative and Education Director Newton Cook loves Kérastase Fresh Affair because 'It doesn't leave a powdery residue on dark hair. Fresh Affair is super-absorbing without the residue.' Newton enthuses; 'The scent is truly irresistible. The Neroli notes with subtle tones of lavender and citrusy are so refreshing.'
Fresh affair lets you extend the life of yesterday's blowdry. Simply spray it in and brush lightly to air out the roots, absorb oil and remove any odors. It also helps when you want to give your hair and scalp a break from bathing. Fresh Affair also has Vitamin E to help keep your hair and scalp from drying out on the days when you want to skip your full hair routine.
One of the best things about Fresh Affair is it only takes a few seconds to work its magic. You don't have to wait until you have time to shower to have fresh, airy, non-greasy hair. Whether at work or play, when you notice your hair looks a little flat, you can use Fresh Affair to freshen up whenever you need. It's light and doesn't leave a residue, so you can use it as much as you want.
How to use Kérastase Fresh Affair   
Follow these four simple steps to give your hair a fabulous fresh boost.
1: Split Your Hair
Split your hair and hold the product 15cm from your hair
2: Spray Fresh Affair 
Spray Fresh Affair onto your scalp & hair, focusing on your roots
3: Massage Into Roots
Massage the product into your roots and wait a minute
4: Brush Through
Brush through any excess residue and you're all good to go!
To learn more about Keerastase Fresh  Affair click the link here.
As an added benefit, when you buy Fresh Affair at Rodney Wayne or Shampoo 'N' Things, you can earn Rodney Wayne Rewards*. They're points that go towards your hair services and hair care products. And as a Rewards member, you'll also get access to special offers and exclusive products.
*Ts+Cs apply. Rodney Wayne Rewards are not available with online purchases.