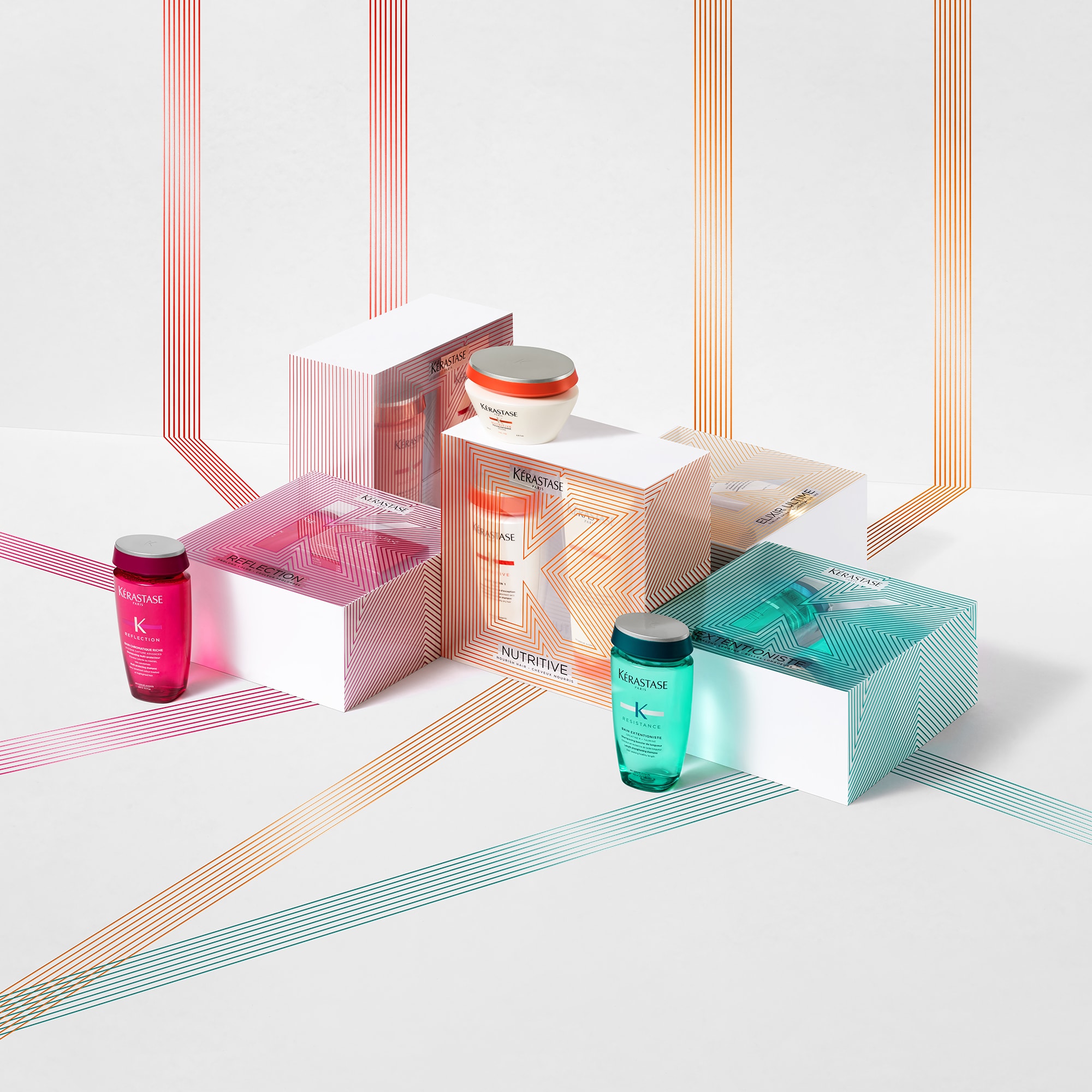 Looking for unique ideas to make that special someone feel appreciated this Mother's Day? We hear you! Nothing beats the gift of gorgeous hair, so we've put together our top five pampering solutions.
1. Augustine Matrix Gift Sets
If your special someone's a brunette who lightens her hair, then this is the perfect gift for her. Rich in vitamin oils and packed with intense neutralising blue-violet pigments, Total Results Brass Off is designed to strengthen the hair and minimise breakage while neutralising brassy tones. The result will leave her hair looking cooler and refreshed. Plus this handy pocket-sized shampoo and conditioner set comes in a cute complimentary Limited Edition Augustine cosmetic purse. $50 RRP
2: Kérastase Elixir Ultime
Or give them a luxe hair treatment that they can do at home, in their own time. The Kérastase Elixir range has a nourishing shampoo, mask, beautifying treatment and conditioner. Each plays a slightly different role. The invigorating Marula and Camelia infused Kérastase Bain Elixir Ultime (shampoo) plumps up lacklustre hair and enhances shine with the bonus of a soft 48-hour fragrance. The oil infused Kérastase Le Fondant Elixir Ultime (conditioner) gives the hair a deep nourish, leaving it feeling light and smooth, and ideal for busy people.  The restorative Kérastase Le Masque Elixir Ultime reduces dullness, giving hair a deep shine and is fantastic for fine locks. From $50RRP (each)
3: Kérastase Limited Edition Boxed Sets
These gorgeous gifts are not only pampering, they look beautiful when unwrapped. The Kérastase Limited Edition Coffret Sets package up a duo of exceptionally nourishing shampoos and conditioners. Choose from the luxurious Kérastase Limited Edition Elixir Coffret Set, designed to nourish hair and provide 96 hours of frizz protection ($114RRP), or the Kérastase Limited Edition Résistance Coffret Set designed specifically for weakened, brittle or slightly damaged hair ($114RRP) or the Kérastase Limited Edition Nutritive Coffret Set which works wonders on normal to slightly dry hair ($98RRP). Any one of these dynamic duos will leave her hair deeply nourished with a brilliant finish.
4: ghd Original Styler Gift Set
The ghd Original styler is perfect for quick, effortless straightening and easy waves. Exclusive to Rodney Wayne – purchase the ghd Original styler and receive a complimentary gift set. The set includes a gorgeous travel bag, ghd paddle brush and ghd UV protective spray – valued at $50. Treat yourself to a styler and you have the perfect gift for someone special! Make every day, especially Mother's Day, a good hair day. $235 RRP
5: Rodney Wayne Gift Voucher
If you're not sure what your special someone would like then a gift voucher is the ideal solution. You choose the value and they choose the pampering. Rodney Wayne Gift Vouchers can be redeemed for luxurious hair care products or services at Rodney Wayne salons throughout New Zealand.
Rodney Wayne Rewards on Mother's Day and Every Day
When you buy a product or service at a Rodney Wayne or shop at Shampoo 'n' Things you can earn Rodney Wayne Rewards. They're points that can go towards your hair services and hair care products. Plus you get access to special offers and exclusive professional quality products. So visit your Rodney Wayne salon or shop at Rodney Wayne Shampoo 'n' Things to spoil that special person, and earn rewards for you at the same time.
Gift sets available while stocks last. Stock may vary between locations.
Please note, Rodney Wayne Rewards are not available for online sales.