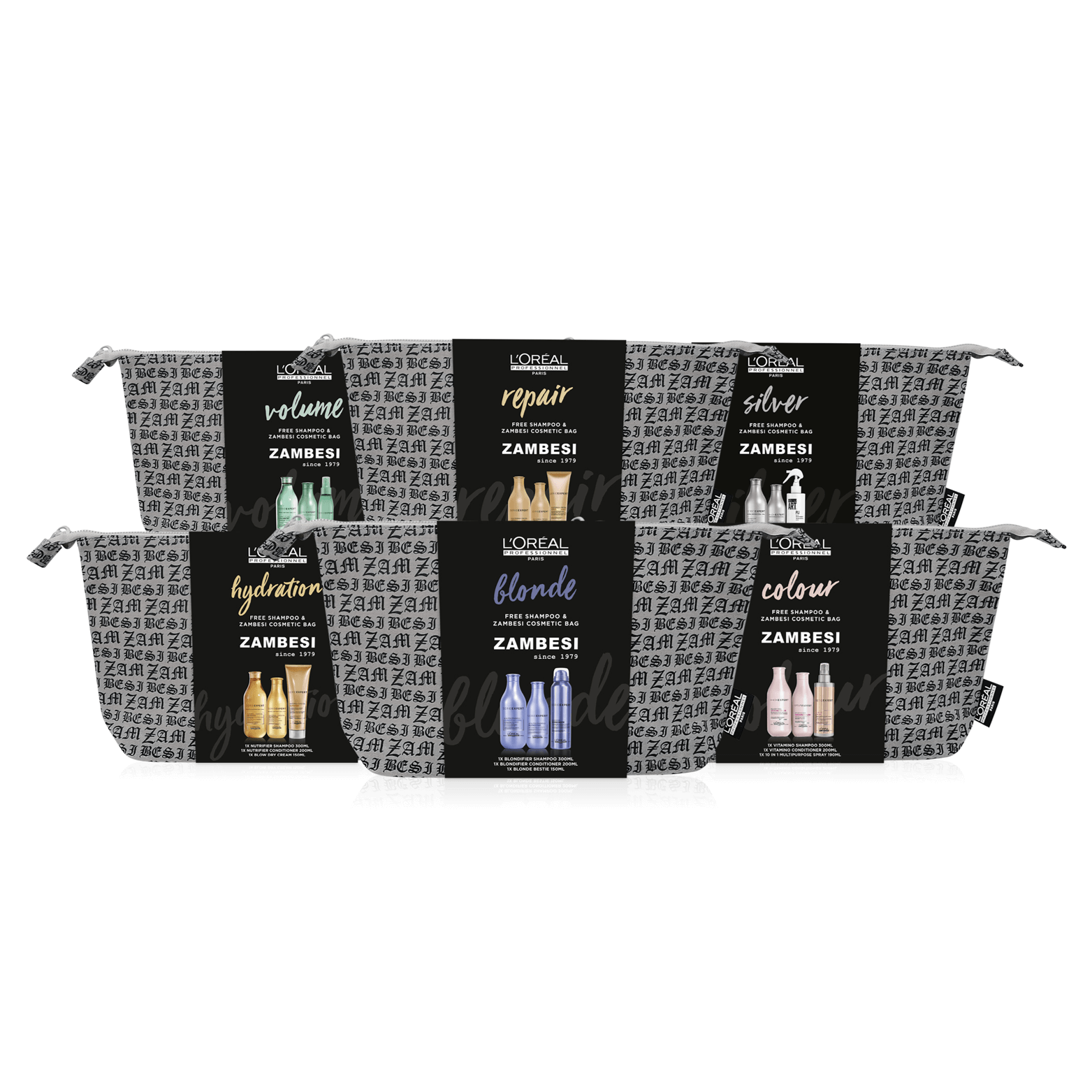 We couldn't be more excited! Zambesi is one of New Zealand's most iconic fashion labels, renowned for its directional designs, while L'Oreal is at the leading edge of haircare with tailored made formulas for every hair type. And now the two have collaborated to created bespoke limited edition gift sets. With Christmas just around the corner and the party season drawing near, treat yourself or gift your nearest and dearest with the very best in style and care.
The L'Oréal Professionnel Serie Expert Nutrifier Limited Edition Zambesi Gift Set contains a lightweight hydrating duo.  They're designed specifically to revive and nourish dry hair, delivering an intense burst of moisture to thirsty hair without weighing it down. Hair feels softer, more supple with a radiant glossy shine. All housed in a unique Zambesi print makeup bag – directional design filled with cutting edge haircare.
The Serie Expert Absolut Repair Zambesi Gift Set is a repairing set that revitalises, revives and restructures dry and damaged hair. It helps deliver locks that appear instantly transformed inside and out. Absolut Repair nourishes and repairs your damaged hair, strengthening weakened hair fibre. Your hair is visibly stronger, softer and shinier and easier to manage. The bespoke Zambesi print makeup bag makes this set even more desirable.
The Serie Expert Volumetry Limited Edition Zambesi Gift Set is an anti-gravity, volume-boosting duo, designed to help create the look of fuller, more voluminous hair. Perfect for fine hair delivering essential nourishment and creating gorgeous, ultra-airy moisture. The lightweight texture doesn't weigh hair down. The limited-edition Zambesi print makeup bag complements L'Oréal's 'must-have' haircare.
EARN REWARDS WITH L'ORÉAL LIMITED EDITION ZAMBESI GIFT SETS
When you buy a product or service at Rodney Wayne salons or Shampoo 'n' Things you can earn Rodney Wayne Rewards*. They're rewards that can go towards services and products at both Rodney Wayne and Shampoo 'n' Things. You also get access to extra special offers and exclusive products. So shop with us for these limited edition gift sets now and earn extra rewards too.
*Not available for online sales. Ts and Cs apply.