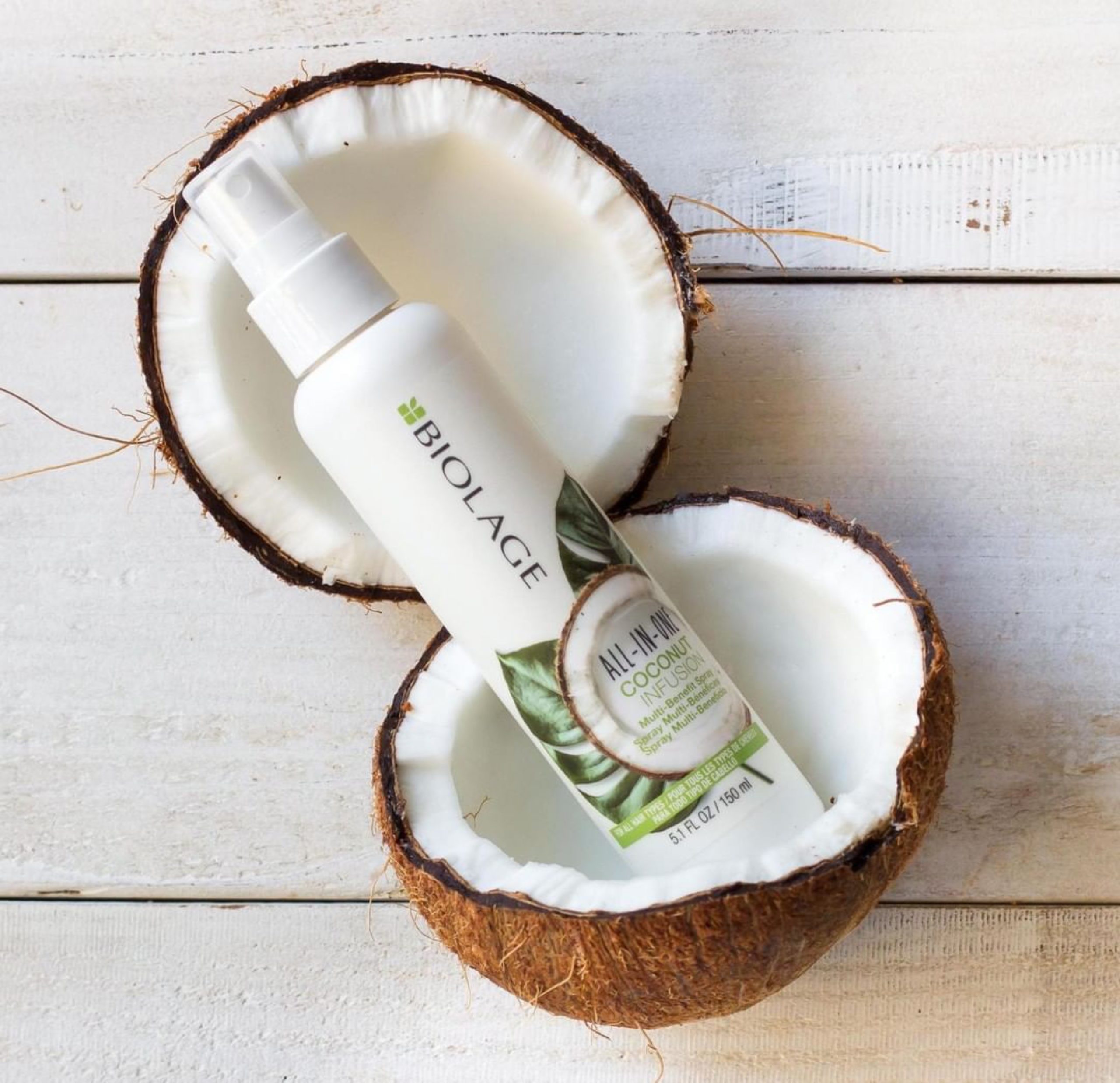 If you care about your hair but don't have room in your morning routine for time-consuming treatments, here's a no-fuss solution you can use in the shower or on-the-go to give you fabulous hair in minutes.
Biolage All-In-One Coconut Infusion Multi-Benefit Spray is a lightweight multi-tasking styling spray to restore, protect and perfect your locks no matter your hair type.
WHY WE LOVE BIOLAGE ALL-IN-ONE MULTI-BENEFIT SPRAY
Rodney Wayne Creative and Education Director Newton Cook is excited about this new product. Newton enthuses, "Biolage All-In-One Multi-Benefit Spray with coconut infusion is made for literally everyone, anywhere, and any time. No matter the hair texture, curly to straight, thin to thick; no matter the hair moment, wet or dry, this vegan formula multi-tasking spray will help enhance shine, fight frizz, detangle, protect from heat, prevent split ends and more! It's your new go-to for controlled, healthy-looking hair".
WHAT DOES BIOLAGE ALL-IN-ONE SPRAY DO FOR YOUR HAIR?
A multi-tasking hair treatment spray, Biolage All-In-One Coconut Infusion nourishes, conditions, detangles and improves manageability – with lightweight results.
A great pre-style primer, Biolage helps prevent split ends and heat damage, adding shine, controlling frizz and flyaways, giving your hair that silky touch.
Biolage All-In-One Coconut Infusion benefits all hair types, including colour treated and ombre hair.
HOW EASY IS IT TO USE BIOLAGE ALL-IN-ONE?
To treat yourself, simply spray on wet or dry hair and let the magic happen.
For increased conditioning, leave on.
For lightweight conditioning, rinse out after a couple of minutes.
To refresh your style anytime, spray on the go.
WHAT ARE THE INGREDIENTS?
As well as what this handy spray can do for your hair, more good news is what is – and isn't – in it! With coconut oil as one of the key ingredients, the vegan formula is free from sulphates, parabens, and artificial colourants. It has a beautiful floral scent of natural mandarin, rose and sandalwood.
Available now at Rodney Wayne and Shampoo 'n' Things or online here, Biolage All-In-One Multi-Benefit Spray is your ultimate at home, multi-tasking treatment.
Who doesn't want healthy, gorgeous hair in minutes?
EARN REWARDS WHILE YOU CARE FOR YOUR HAIR
Every time you receive a service or shop at a Rodney Wayne salon or Shampoo 'n' Things store you can earn Rodney Wayne Rewards. They're points* that go towards your hair services and hair care products. You'll also get access to special offers and exclusive products.
*T+C's apply. Rewards not available for online sales.