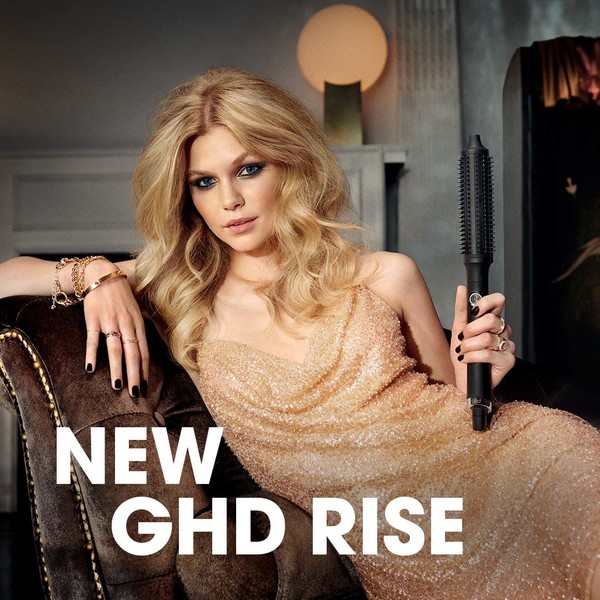 We all know how much a voluminous hairdo can lift a look. Now you can create the big hair of your dreams and sculpt your way to head-turning perfection with the new ghd rise. If you loved the ghd hotbrush and you're a fan of volume and body then this is going to be your new favourite hair styling tool.
NEW GHD RISE FOR VOLUME FROM ROOT TO TIP
The ghd rise volumising hot brush creates noticeably more volume for big, bouncy styles that last all day. It's kind to your hair, thanks to ghd research and technology, and achieves volume from root to tip. This game-changing tool works on all hair types and lengths for enviable chic waves, fierce flicks and bombshell curls. It's super easy to use too.
Packed with features, the advanced infinity sensor ensures an optimum styling temperature of 185 ºC is consistently maintained, so you can add volume in the right areas with no extreme heat. The smooth-touch bristles and cool tip allow for close contact at the root creating instant volume, so can achieve results in one stroke. The new ghd rise hot brush can be used on all hair types to create effortless volume and movement.
New ghd rise volumising hot brush is available now at Rodney Wayne and Shampoo 'n' Things, or buy online here.
EARN REWARDS WITH GHD RISE
When you receive a service or shop for products with us, you can earn Rodney Wayne Rewards. They're points* that go towards hair services and hair care products at Rodney Wayne and Shampoo 'n' Things. You can also get access to special offers and exclusive products. So shop for the new ghd rise™ at Rodney Wayne now.
*Not available for online sales. Ts +Cs apply.