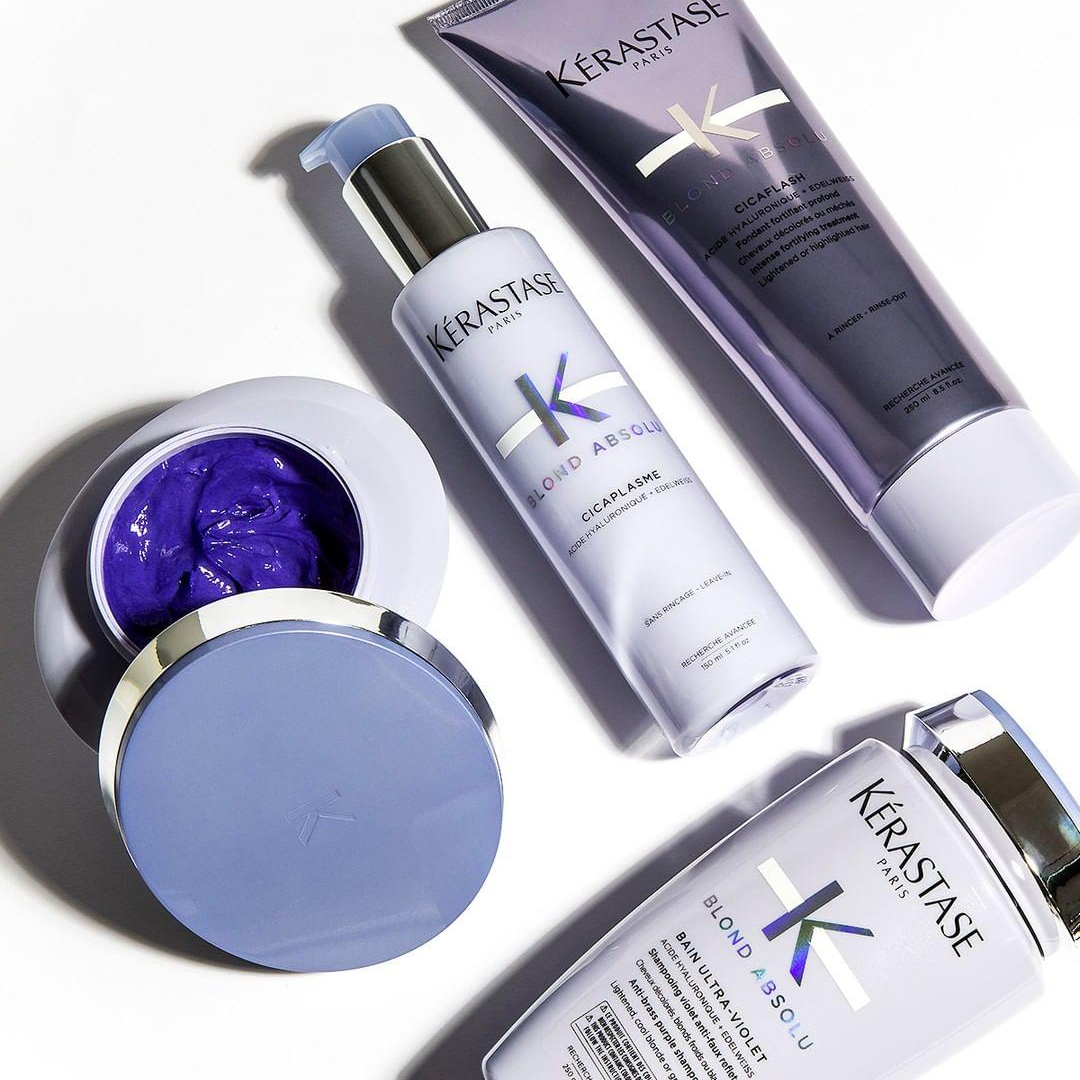 Whether your hair is naturally blond or bleached, the new Blond Absolu collection of shampoo, conditioner, mask and treatment from Kérastase will help keep it illuminated, soft and radiant while minimising unwanted brassiness.
More than any other colour, blonde hair holds onto pollutants in the environment. It can turn brassy over time, especially with excessive washing. It's a bit like a white t-shirt becoming discoloured with lots of use, losing its ability to hold onto a brilliant hue. Bring on the Kérastase Blond Absolu range as the ultimate solution.
How does Kérastase Blond Absolu work?
Using a special blend of Edelweiss flower, ultra-violet pigments and potent non-sulphate Hyaluronic Acid – which naturally occurs in the body and repairs tissue – the Kérastase Blond Absolu range deeply nourishes and neutralizes brassiness all in one hit.
No matter whether your hair is straight or curly; with lowlights or highlights; the Kérastase Blond Absolu range works expertly, protecting blond hair from pollutants and keeping the colour cool, icy and clean – with superior shine.
Rather than wash blond hair more frequently it's better to wash less with better products. And this collection is the perfect union of colour and care.
Kérastase Blond Absolu Bain is a powerful purple shampoo for cool faux-blondes and grey hair. This UltraViolet Shampoo neutralises brassy tones keeping the hair fresh and cool. Blond Absolu Cicaflash, the velvety gel conditioner nourishes and strengthens, while the Blond Absolu Masque Ultra-Violet locks in softness and shine. The Cicaplasme leave-in treatment protects against heat damage from blow-drying and styling tools – up to 230°.
'Whichever blond you are: you dare, we care' – Kérastase
Rodney Wayne Rewards You
Every time you buy a product or service at a Rodney Wayne salon or shop at a Shampoo 'n' Things store you can earn Rodney Wayne Rewards. They're points that can go towards your hair services and hair care products. Plus you get access to special offers and exclusive professional quality products. So visit your Rodney Wayne salon or shop at Rodney Wayne Shampoo 'n' Things now.
Please note, Rodney Wayne Rewards are not available for online sales.