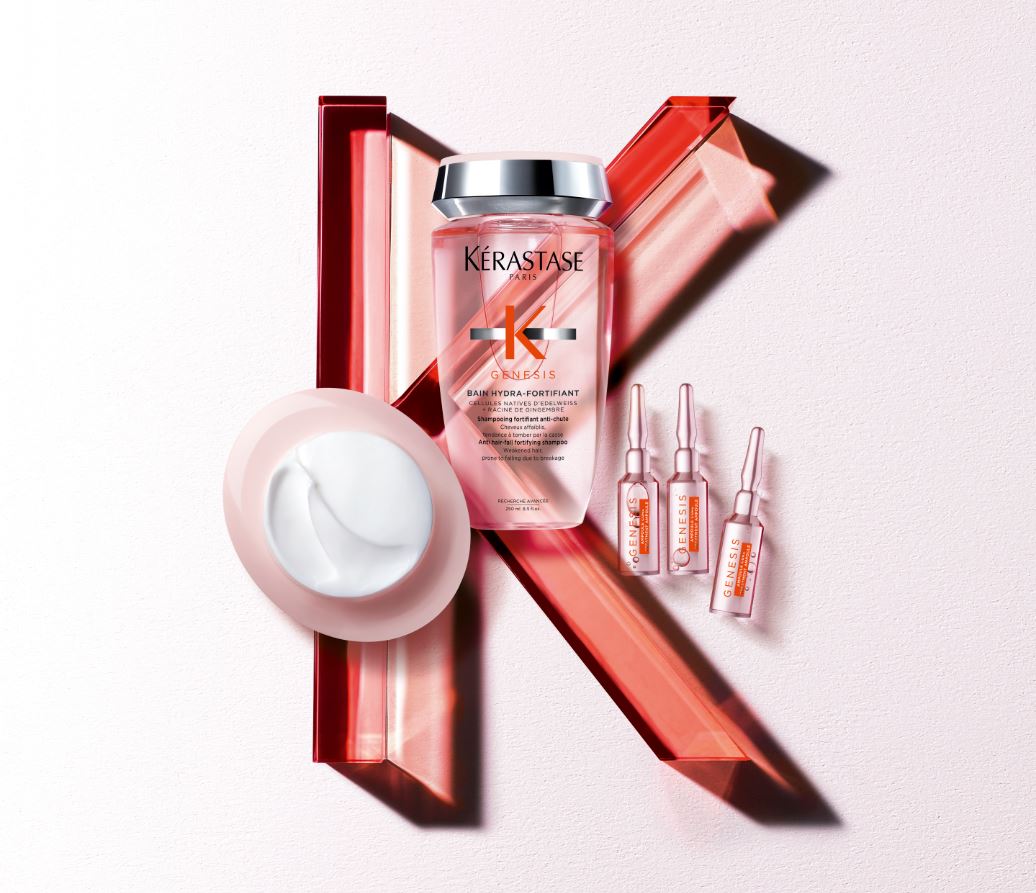 Concerned about hair fall, as well as breakage while brushing? Kérastase Genesis is the first range to treat both kinds of hair fall – at the root and from fiber breakage, for all lifestyles.
WHAT CAUSES HAIR FALL?
Hair fall can happen as part of the natural life cycle of the hair, from the root, or partway down the hair shaft from breakage due to stressors like too much brushing, tight hair ties, hot styling or excesses of UV. Diet, hormones and life stress can contribute to the health of your skin – including your scalp – and hair.
WHY GENESIS?
Kérastase listened to concerns around hair loss, and responded with a collection of shampoo, conditioners and treatments supercharged with potent ingredients to answer hair-fall needs.
Kérastase Genesis is the first range to treat both kinds of hair-fall – at the root and from fibre breakage, for all lifestyles, with all degree of hair fall.
The Genesis range provides benefits from a unique blend of renowned ingredients for formulas that promote beautiful hair including anti-oxidant rich Edelweiss Native Cells, ginger root to protect against external aggressors.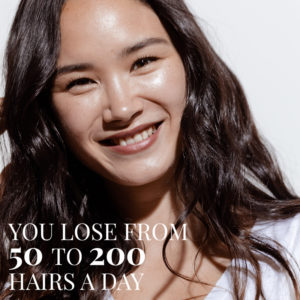 THE GENESIS STEPS TO REDUCING HAIR FALL
Start your cleanse with Kérastase Genesis Bain Nutri-Fortifiant Shampoo or, for fine hair, use Kérastase Genesis Bain Hydra-Fortifiant Shampoo. The gentle cleansing action soothes and hydrates hair from root to tip and reinforces fiber to reduce the risk of hair-fall due to breakage.
Next, condition with Kérastase Genesis Fondant Renforcateur. This creamy formula offers anti-breakage action with the most lightweight finish. It helps restore the fiber and reinforces its natural resistance. For extra fortifying care try the Genesis Masque.
For extra intense care treat with the Genesis Serum, or the Genesis Ampoules Cure Anti-Chute Fortifiantes. With a unique precision blend of ingredients, the shot acts to intensely reduce hair-fall and maximize beautiful hair. During peaks of hair-fall, the jelly-like formula re-anchors the hair follicle into the scalp while providing an optimal environment for future growth. The formula soothes and decreases itchiness by reinforcing the natural protective barrier of the scalp.
An incredible beauty breakthrough, the Kerastase Genesis range offers dual anti-fall action to help gently cleanse pollutants from scalp and hair, and reduce breakage by supporting hair fibre strength, giving your hair greater resilience while fortifying and nourishing.
You can explore the Kérastase Genesis Collection by clicking the link here.
EARN REWARDS WITH GENESIS 
When you buy a product or service at Rodney Wayne salons or Shampoo 'n' Things you can earn Rodney Wayne Rewards*. They're rewards that can go towards services and products at both Rodney Wayne and Shampoo 'n' Things. Plus you get access to extra special offers and exclusive products. So shop Genesis with us and treat yourself as well as your hair.
*Not available for online sales. Ts and Cs apply.