I got my latest inspiration New York Fashion Week 2014 and love how easy these looks are to do at home:
BRAID
Part hair where it naturally falls then with your fingers plait hair into two low plaits. With the two plaits cross them over each other behind your head then bring one plait up and over the top of the head and secure with a bobby pin. Get the other plait and bring it over the top of the head on the opposite side and secure with a bobby pin. Tuck both ends of plaits under other plait and pin ends to hide it.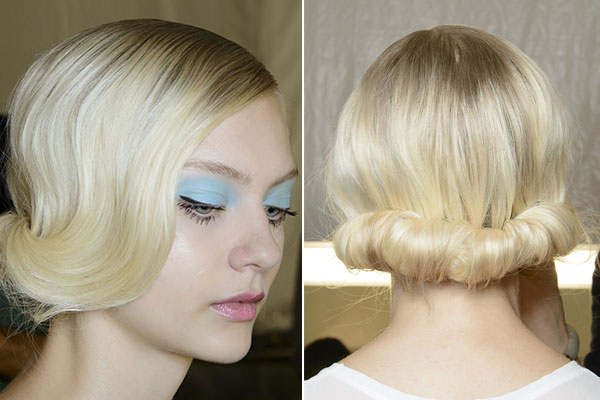 SOFT RUMPLED UPDO
Put Redken Guts 10 Volume Spray Foam into dry hair and then blast it with a hair dryer until it's 100% dry. Brush out with a cushion brush. Spray a light layer of dry shampoo over hair to give it a dusty look. Brush hair into a low side part. Using a long skinny cushion tubing (a great trick is to pull a hair donut apart!) place it at the end of hair and roll hair up in it hiding the tube. Secure with bobby pins. To give a modern lived in look, softly pull a few fine pieces out.
STREAMLINED SIDE PONYTAIL by DKNY
Straighten your hair out smooth and sleek. Put a low side parting in that's straight and sectioned quite far back to give it a more modern look. Run a cushion brush through your hair so it is nice and smooth. Next brush into a low side ponytail and place a hair tie in the hair keeping ponytail nice and low at the nape to one side. Use Redken Forceful hair spray to lightly to spray any flyaways down.
I hope you enjoy these hot looks.
Christie
RW Art Team