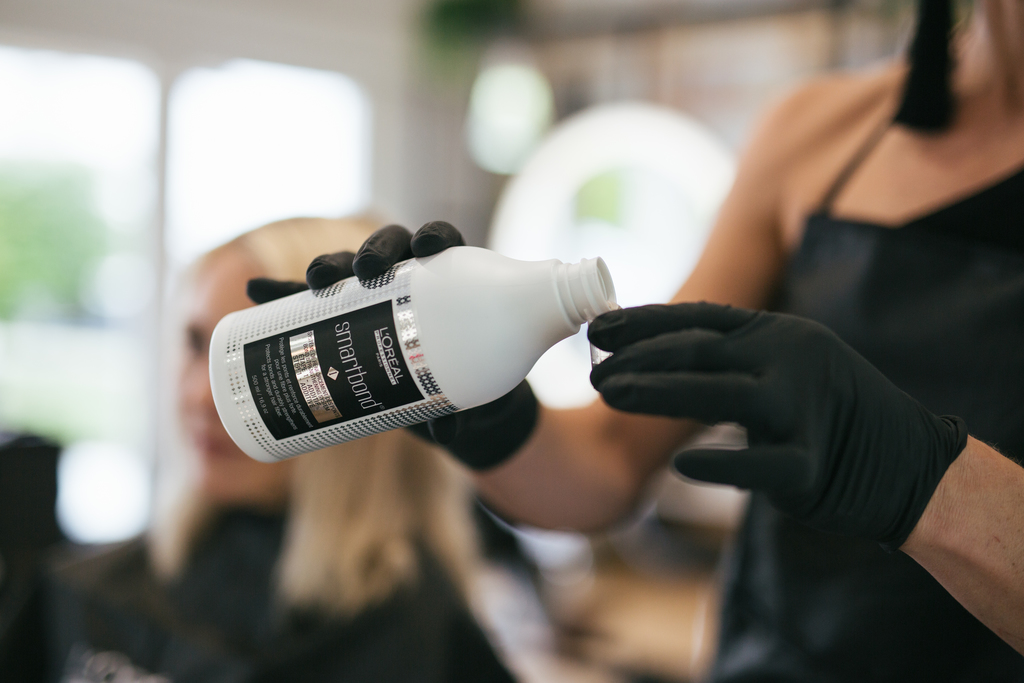 Spring brings a sense of newness, optimism and lightness. It's the perfect time to refresh your look. 'Start thinking about a soft change of colour, some brightening and lightening, but in a warmer, more golden way before we come blazing through with our blonde foils for Summer', says Rodney Wayne education and creative director Newton Cook. He is quick to add that the condition of your hair is so important when looking for a change of colour, 'It's always good to start looking at a strengthening conditioner to add to your hair regime once a week to prep your hair for that soft lightening service, creating a #nocompromisecolour state before the actual service'. When it comes to choosing a strengthening conditioner, Newton has three clear favourites: L'Oréal Professionnel Smartbond, Kérastase Force Architect, and Pureology Strength Cure.
Give Your Hair the Natural Look
Carefree days of Spring call for natural-looking hair so making the most of your wave or curl becomes important. Ensuring your hair is hydrated is the first step to pulling off the perfect 'natural' look, followed by the right styling product. Newton recommends Redken Full Effect Mousse, 'I love this product, it delivers a light shine to the hair, it's anti-frizz because it's quite creamy and most importantly it doesn't dry hard and crunchy into the hair. It's also not heavy so won't weigh the hair down too much.'
Fresh Spring Hairstyles
 Whether you are looking for a new style or just a spring clean for those split ends and overgrown fringes, now is the perfect time to book your hair appointment. Waves and curls are strong trends this season and with this comes the need for 'natural' looking hair. The cut is paramount to achieving this look. Get in touch with us to talk about how we might be able to make your hairstyle come to life this spring.
Add Life and Colour to Your Hair
Now is the perfect time to lighten and brighten your hair. 'A great way we brighten the head is by touching up the root area and adding a Dialight 'clear' colour service to the mid-lengths and ends, giving the hair a beautiful glossy finish without changing the overall colour', suggests Newton.
Often when visiting the salon our hair can be the right shade and depth but just missing life and vitality. If this is the case, Newton recommends our Kérastase Fusio-Dose treatment. An in-salon Kérastase Fusio-Dose ritual is a mix of luxury and therapy for your tresses. Each custom-designed treatment instantly and lastingly transforms hair.
Book now and ask your stylist about the best Fusio treatment for you.
Beat the Frizz
To support the natural texture and waves of the hair, we don't necessarily want to walk out the house with dripping wet hair nor do we want to blast our hair dry making it super frizzy because although the suns out there is still a chill in the air. 'The best tool I've found for drying off your curls without the frizz is the Dyson Supersonic™ hairdryer using the diffuser attachment. It's an investment but it really is a game-changer. Paired with Redken Full Effect Mouse, this will give you great results', says Newton.
Earn Rodney Wayne Rewards
Every time you receive a service or shop at a Rodney Wayne salon or Shampoo 'n' Things store you can earn Rodney Wayne Rewards. They're points that go towards your hair services and hair care products. You'll also get access to special offers and exclusive products.
Book your Spring hair appointments now!
T&Cs apply. Rodney Wayne Rewards not available with online sales.