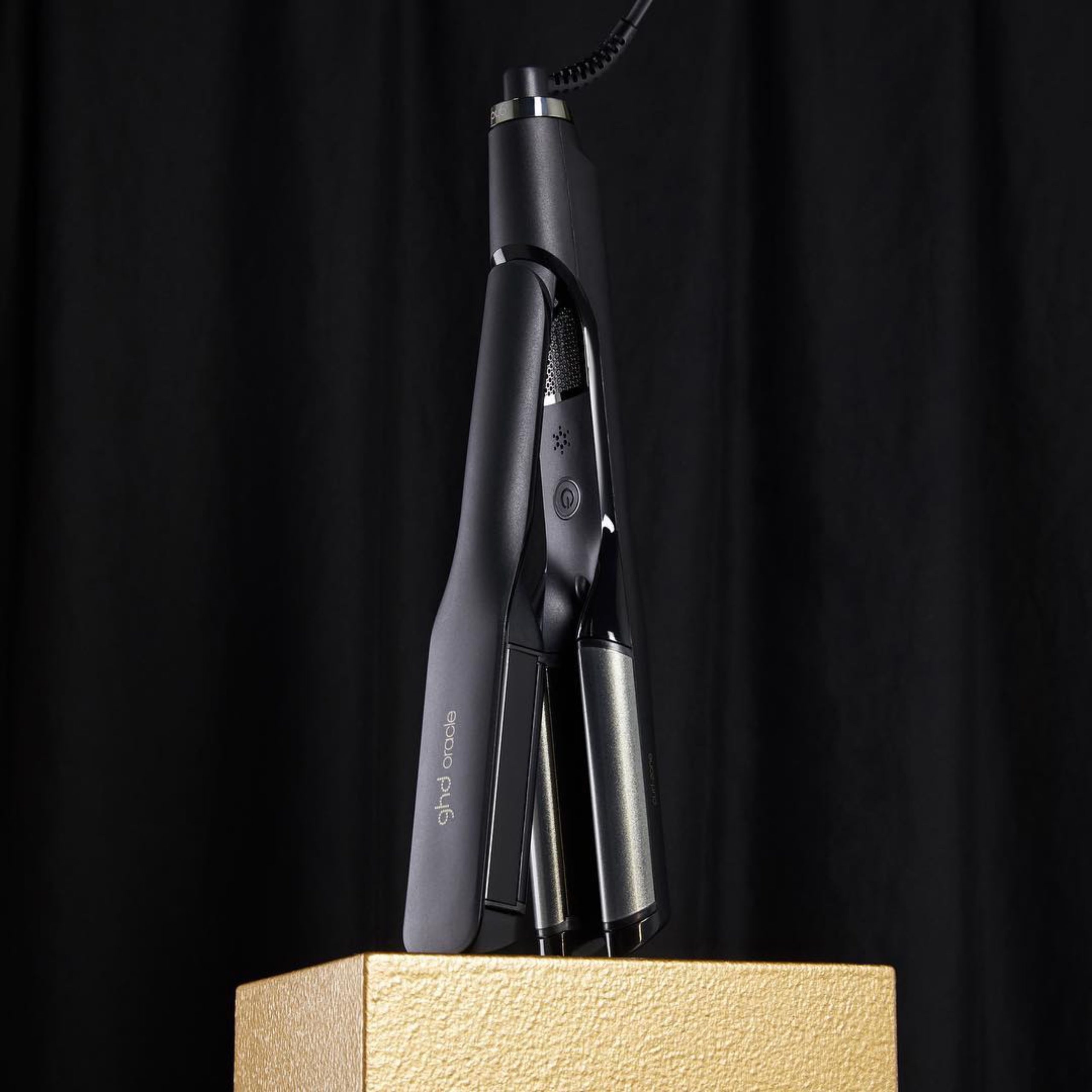 The most exciting innovation since the hair straightener – ghd Oracle is here!
It's been seven years in the making but finally, ghd, the pioneers of hair straighteners, have perfected the queen of all curling machines. The ghd Oracle. It won't tell you your future but it will make your hair do exactly what you want it to do day after day, from Hollywood curls to loose crimps to beachy waves, all without the aching arms.
Ghd Oracle – Launched Exclusively at Rodney Wayne

The ghd Oracle launched exclusively in New Zealand at Rodney Wayne as part of the global release. You can discover ghd Oracle in action now at the following salons:
Rodney Wayne Albany
Rodney Wayne Bayfair
Rodney Wayne Bethlehem
Rodney Wayne Botany
Rodney Wayne Browns Bay
Rodney Wayne Chartwell
Rodney Wayne Dominion Road, Mt Eden
Rodney Wayne Eastridge
Rodney Wayne Fort St
Rodney Wayne Glenfield
Rodney Wayne Hornby
Rodney Wayne Lambton Quay
Rodney Wayne LynnMall
Rodney Wayne Newmarket
Rodney Wayne Northlands
Rodney Wayne Northwest
Rodney Wayne Palmerston North
Rodney Wayne Riccarton
Rodney Wayne Queensgate
Rodney Wayne Shore City
Rodney Wayne South City
Rodney Wayne St Luke's
Rodney Wayne Sylvia Park
Rodney Wayne The Palms
Rodney Wayne Whangaparaoa
Rodney Wayne Westcity
Don't see your salon on the list? Stay in touch with us here or via Instagram – @RodneyWayneOfficial or Facebook to find out when the ghd Oracle is available at your local Rodney Wayne.
How does ghd Oracle work?
The patented tech called 'curl zone' uses four special ceramic plates that heat up to 185ºC to curl and then apply a crash cool to make sure it lasts. Adam Reed, ghd's global ambassador wanted to design plates that would create a bend in the hair no matter what angle you place the stylers at and he pulled it off. He describes it as easy as curling a ribbon with scissors, "without damaging the hair, of course."
To create the curl you take a section of hair and glide it through the U shape plates and either rotate, twist or clamp and release to get the look you desire. That's it. No matter what angle you come at your hair from, you'll get controllable, charming curls.
Now curling your hair is as easy as straightening it. Bring on the curling revolution!
Suitable for all hair types, the ghd Oracle is the trick for quick, effortless and beautiful curls. From $380.00 RRP. And when you buy ghd from your Rodney Wayne salon you can be sure of buying the guaranteed genuine product.
Rodney Wayne Rewards You
Every time you buy a product or service at a Rodney Wayne salon and every time you shop at a Shampoo 'n' Things store you can earn Rodney Wayne Rewards. They're points that can go towards your hair services and hair care products. Plus you get access to special offers and exclusive professional quality products. So visit your Rodney Wayne salon to discover ghd Oracle and earn rewards now.
Please note, Rodney Wayne Rewards are not available for online sales.