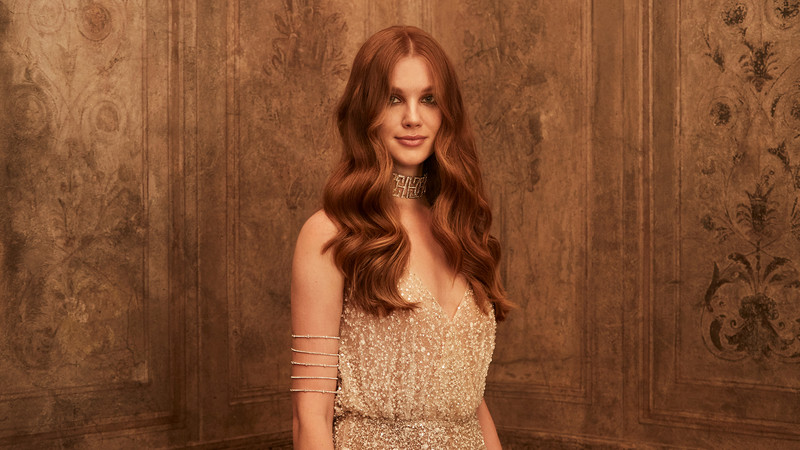 It's a holiday dedicated to celebrating love, and regardless of your relationship status, it's important to truly appreciate and celebrate who you are as an individual. This Valentine's Day, make 'self-love' a priority, take care of yourself and show yourself some true love. One of the most transformative and uplifting ways you can show that love is to care for your hair. With this in mind, Rodney Wayne creative and education director Newton Cook shares his top Valentine's self-love hair tips with his most-loved products and pampering services to have you feeling and looking your beautiful best.
1. Give your hair pro-style shine
There's nothing like the feeling of sleek, shiny, freshly styled hair. Now you can treat yourself to the pleasure whenever you like. The new ghd max styler has been officially released here just in time for Valentine's Day. "The ghd max styler will straighten your hair twice as fast while taking care of your hair," says Newton. "It's the perfect tool to achieve that loose bouncy wave or glass-like straight style. This is the gift to give yourself."
2. Protect your hair from heat
Blow drying at home is an easy way to manage your hair, especially when you're in a hurry. But if not done properly your hair can be damaged. New L'Oréal Serie Expert Blow Dry Fluidifier is a game-changer. "The results are amazing. The professional formula allows easier blow-drying even on very damaged hair, and leaves hair smooth and shiny. Blow waves stay in all day thanks to the memory hold technology" enthuses Newton, "I think what I adore the most is that although it feels like there is no product in the hair there's no frizz up. I expect to see this on everyone's wish list!"
3. Wrap your hair in sensual fragrance
There is so much to love about Kérastase Chronologiste Parfum En Huile. "Use this after styling. As well as it helping to reduce the frizz it gives your hair a beautiful sheen, helping you feel your utmost best. The delicate fragrance, designed by reknowned perfume nose Alberto Morillas is super-luxurious too."
4. Treat yourself to a professional blow-dry
"Nothing feels better than knowing your hair is looking and feeling its absolute best," says Newton. "And that walk when you leave the salon, with fresh, clean, airy hair… you really do feel amazing." Treat yourself and your hair well, book now for a luxurious Rodney Wayne Blow Wave.
5. Relax and revitalise
For the ultimate in self-love, couple the Rodney Wayne blow wave with a Kérastase Chronologist Ritual. The ritual begins with a diagnosis of your specific needs. Your hair is then bathed and revitalized with a thorough yet gentle shampoo. Hair is treated with a specific masque and expertly massaged. The Chronologiste serum is then applied to the scalp and roots, delivering powerful anti-aging actives for total hair and scalp restoration. For added care, heat protectant layers seal cuticules and prime the hair for styling. Your stylist then performs an artful blowdry according to your preference, with a finishing Huile de Parfum smoothed over your hair for fragrance and shine.
Newton favours the Kérastase Caviar Treatment – a deluxe treatment that hydrates, strengthens and repairs your hair while adding shine, volume and UV protection. "Harsh sunlight is something we often overlook when it comes to our hair." He advises, "Now is the best time to show your hair some love, with the sun being at its hottest, your hair will be feeling slightly dehydrated. This luxurious Kérastase treatment is a timely, and reviving, recognition of your worth."
Rodney Wayne Rewards You
Every time you receive a service or shop at a Rodney Wayne salon or Shampoo 'n' Things store you can earn Rodney Wayne Rewards*. They're points that go towards your hair services and hair care products. You'll also get access to special offers and exclusive products. So here's to your fabulous self, and good hair days forever. Happy Valentine's Day!
Ts+Cs apply. Rodney Wayne Rewards not available with online purchases.