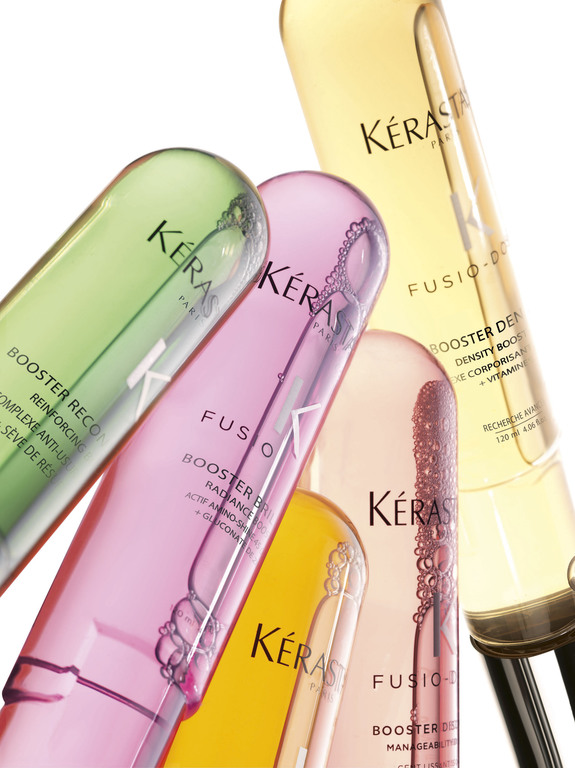 Does your hair deserve a little luxury pampering too? Looking for a fast fix for dry, damaged, dull, flat or frizzy hair? Kérastase Fusio-Dose is the in-salon care ritual that's completely customisable to your needs. If you haven't had a Fusio-Dose treatment yet, now is the perfect time. You and your hair are in for a treat in more ways than one.
Fusio-Dose for Instant Transformation and Lasting Results 
Fusio-Dose treats your hair and immediately transforms for lasting results. It works by combining Kérastase performance molecules, isolated in their purest form via a concentrate and booster. Based on your needs, your expertly trained Rodney Wayne hairstylist can create a bespoke mix to instantly transform your hair.
Customised Treatment
After a hair diagnosis with your Rodney Wayne hairdresser, you will have the ideal Fusio-Dose mix recommended for you. A customised mix of super concentrated, blended active ingredients for personalised care, designed to instantly and lastingly transform your hair. A relaxing hair wash is all that is needed before the mix is combed into your hair and left for less than 5 minutes. It's an intense fast-action boost for instant results that even the busiest person can enjoy.
Win 1 of 3 $1000 Travel Vouchers!
As we come into spring, we see the return of long weekends and holiday plans to be made. If perfect hair and travel is on your mind you're going to love this: Indulge in a Fusio-Dose ritual now and be in to win 1 of 3 $1000 travel vouchers! See Rodney Wayne Salons for details. Ends October 11th, 2019. T+Cs apply.
An in-salon Kérastase Fusio Dose ritual is a mix of luxury and therapy for your tresses. Each custom-designed treatment instantly and lastingly transforms hair. Book now and ask your stylist about the best Fusio treatment for you.
Rodney Wayne Rewards You Too
Every time you receive a service or shop at a Rodney Wayne salon or Shampoo 'n' Things store you can earn Rodney Wayne Rewards. They're points that go towards your hair services and hair care products. You'll also get access to special offers and exclusive products. Book your Fusio-dose appointment now!
T&Cs apply. Rodney Wayne Rewards not available with online purchases.