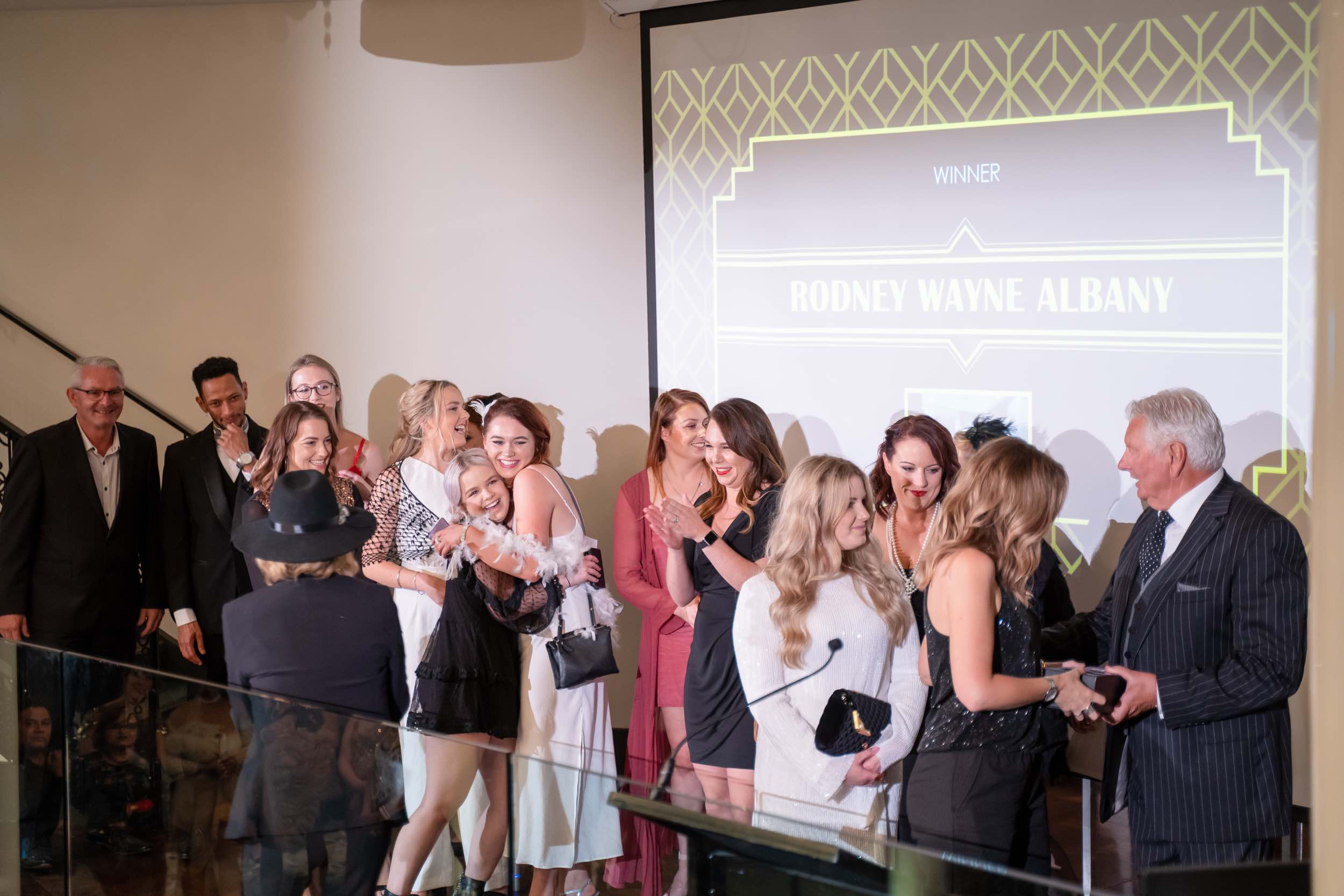 What a venue, what a team and what a night! The Wharf in Auckland set a fitting and glamorous scene for The Rodney Wayne National Awards 2019. The event had all the sparkle of a 20's Gala, with the contemporary twist of spectacular aerial dancing. It was ably hosted by CEO Julie Evans and supported by special guest speaker Simone Anderson, who set the tone with a truly inspirational personal story about the value of bringing out the best in yourself and others.
Hair to Celebrate
The night was all about celebrating the best, with a ceremony which saw Salon of the Year 2019 go to the dedicated and expert team at Rodney Wayne Albany. Shampoo 'n' Things of the Year was awarded to the Shampoo 'n' Things Botany.  The coveted individual award, Stylist of the Year, was awarded to the exceptionally talented Milly Briant. Milly is from our Rodney Wayne Fort Street salon and is also a member of the Rodney Wayne Artistic Team. As part of her recognition she was awarded a REAL GOLD Dyson Supersonic® hair dryer. The first in New Zealand! Yes, just a little bit envious! The Colour Ambassador of the Year was awarded to Vjosa Berzati at Rodney Wayne Eastridge who won a trip to develop her expertise in Melbourne. A huge congratulations to all our amazing finalists, outstanding effort as always.
Latest winning looks
A true highlight of the evening was a showcase of the latest looks by the Rodney Wayne Artistic Team. This was led by our Global Creative Director Richard Kavanagh and NZ Creative & Education Director Newton Cook. Both inspirational and mesmerising to watch, the crowd was treated to a range of models with stunning new 'No Compromise' hair colour and styles, all carefully tailored to bring out their fabulous personalities. From Ellie, with a globalised colour and a strong, punchy cut with daring lash-skimming fringe, think Cleopatra with a hint of rocker chick; to Ella where her personal style inspired the subtle definition of the blonde, with emphasis on a modern natural glow and effortless-looking waves. Inspiring looks, all achieved using the highest quality hair care products to achieve the best looks.
Book your award-winning hair appointment today
A fitting celebration to our world-class talent. It's no surprise Rodney Wayne is recognised as the most awarded hair salon in New Zealand, dedicated to providing you with world-leading hairstyling, hair colouring and hair care products.
Like your own winning look for party season? Book now!