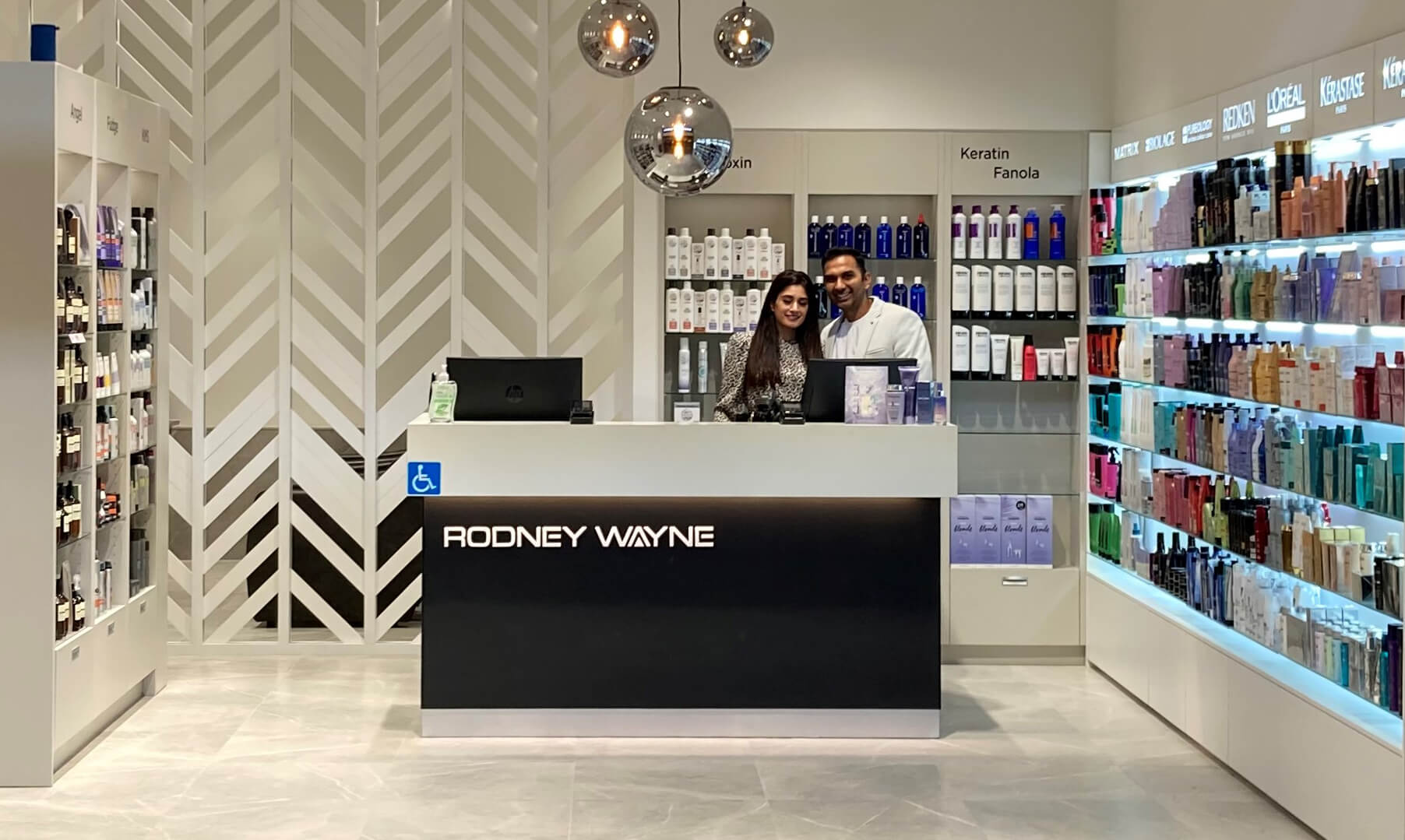 Meet Dinple Dullabh and her husband, Jay Daji, owners of Rodney Wayne Salons in Botany and Ormiston.
From the age of 22, Dinple turned her passion for hairdressing into reality, training as an apprentice at Rodney Wayne in Wellington. After qualifying, she made a life-altering decision to move to Auckland, transferring her new-found skills to Rodney Wayne St Lukes.
"It was a massive change, but Rodney Wayne provided a great environment for me to thrive."
After a four year tenure at St Lukes, Dinple was able to walk away with Stylist of the Year and the Recognition of Excellence award, thanks to the support and coaching that Rodney Wayne provides as part of its commitment to help their people be the best that they can be.
Dinple left salon life to focus on raising a family, until in 2011 when Rodney Wayne put forward the opportunity for her to take on the franchise in Botany. With the backing of her husband, Jay, and the Rodney Wayne Support Office, she was able to build an effective and productive team around her, taking out multiple awards including Salon of the Year in 2020… no mean feat in the year of a global pandemic!
"As I have always had a passion for the brand and the system, I had no doubt. Fortunately my husband was right beside me to help with this new venture."
It's this confidence in the Rodney Wayne system that encouraged Dinple and Jay to embark on their second Salon adventure in the newly-constructed Ormiston Town Centre in 2021.
The opportunity did not come without its fair share of hurdles, of course. Building a new team during the ongoing uncertainty of Covid, Dinple was faced with enormous challenges.
"But these learning curves meant that I was able to come out stronger, and proved the value of the support from Rodney Wayne and my amazing team."
And as Dinple looks back at her journey with Rodney Wayne, she's able to take stock of the influences that have helped to shape their success.
"Not only has Rodney Wayne given me a great lifestyle with flexibility and a lot of opportunities, but it has taught me how to sustain a work-life balance. The franchise has taught me how to run a productive salon and team, and what it means to have a successful business.
My journey from being a technician, to a stylist, to owning two salons myself, is testament to how far passion and drive can take a person. With the support, systems and environment created by Rodney Wayne, anyone can thrive and succeed."
With over 50 salons and Shampoo 'n' Things shops around the country, and several franchisees owning multiple outlets, it speaks volumes for the quality of Rodney Wayne's business model – it really is a proven formula for success. We offer established business systems, group buying and brand awareness from the country's largest hairdressing franchise, and training to ensure that salons stay right up-to-date with global trends.
If you are a motivated 'people person' with business nous and a commitment to excellence, we invite you to find out more about the hair industry. Rodney Wayne has both existing and new opportunities around the country at a variety of investment levels.
To enquire about owning your own Rodney Wayne Salon, visit our franchise page. You can also reach us at franchising@rodneywayne.co.nz or call 09 358 4644.