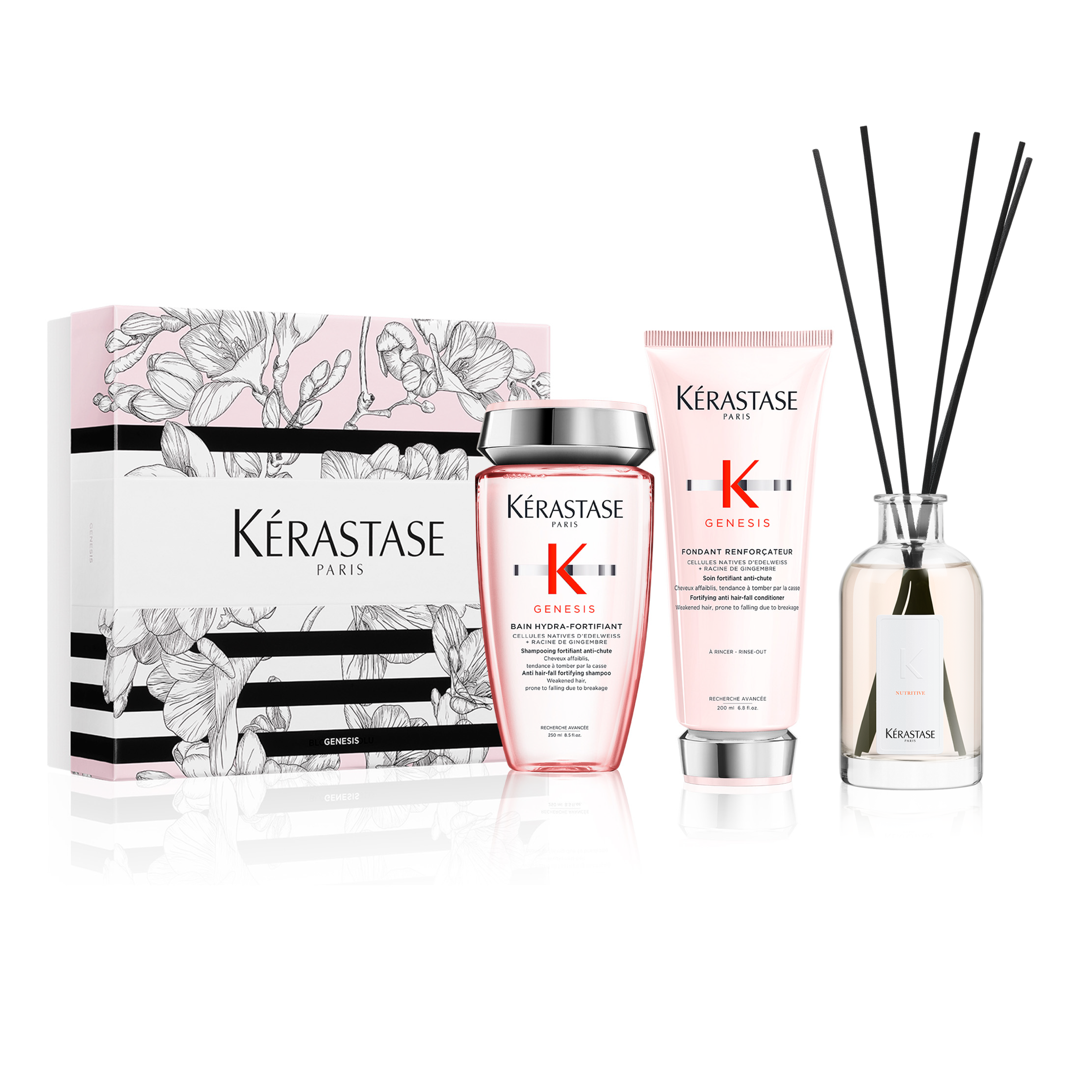 It's no secret that the experience of being in a salon is as much about how it makes you feel, as it is about how you look. And the moment you walk out of the salon door and start to breathe in that pampered post-salon glow, those lovely, luxury scents inevitably come to mind. For those who visit the world's best salons, those fragrances are distinctively Kérastase.
Kérastase iconic haircare products are famous for leaving your hair feeling shiny, healthy and fabulous. Kérastase knows that their loyal devotees just can't get enough of their wonderfully evocative scents. Now you can bring the salon-fresh feelings into your home too.
KÉRASTASE LUXURY COFFRETS & HOME FRAGRANCE DIFFUSERS
Kérastase has just released the latest range of limited edition gift coffrets. Each set comes with a Kérastase shampoo and conditioner or masque, plus a luxury fragrance home diffuser. These sensational haircare sets do more than just make your hair look and feel amazing; they are also fragranced with one of the Kérastase luxurious signature scents.
The Limited Edition Kérastase Gift Coffrets each contain a Kérastase Shampoo & Conditioner or Masque, plus the Home Fragrance Diffuser. They're valued from just $103 to $128 RRP.
YOU CAN CHOOSE FROM YOUR FAVOURITE HOME HAIRCARE COLLECTIONS…
NUTRITIVE FONDANT LIMITED EDITION COFFRET from just $103 RRP
The Nutritive Coffret delivers exceptional hydration and nourishment while cleansing and conditioning normal to slightly dry hair.
Coffret contains:
250ml Kérastase Nutritive Bain Satin
200ml Kérastase Nutritive Lait Vital
Gift with Purchase Home Fragrance Diffuser
BLOND ABSOLU MASQUE LIMITED EDITION COFFRET from only $114 RRP
Blond Absolu is the ultimate answer for all blondes. A unique combination of potent Hyaluronic Acid and Edelweiss flower deeply nourishes the hair fiber and adds shine to blonde hair. The Blonde Absolu Coffret is beautifully presented too.
Set includes:
Kérastase Blond Absolu Le Bain Cica Extreme Shampoo 250ml
Kérastase Blond Absolu Masque Cica Extreme 200ml
Gift with Purchase Home Fragrance Diffuser
KÉRASTASE LIMITED EDITION RÉSISTANCE COFFRET from just $116 RRP
Designed for weakened or mildly damaged hair, the Résistance Force Architecte range will help recover the strength and shine of your hair over time. The Résistance Coffret is great value too.
Set includes:
Kérastase Résistance Bain Force Architecte 250ml
Kérastase Résistance Masque Force Architecte 200ml
Gift with Purchase Home Fragrance Diffuser
GENESIS MASQUE LIMITED EDITION COFFRET from only $128 RRP
This gorgeously packaged Genesis Coffret is a caring duo designed to reduce hair fall due to breakage and keep your hair in optimum health.
Set includes:
Kérastase Genesis Bain Nutri-Fortifiant 250ml
Kérastase Genesis Masque Reconstituant 200ml
Gift with Purchase Home Fragrance Diffuser
KÉRASTASE FRAGRANCE-INFUSED LUXURY
If you like the feeling of having fresh, salon-styled hair every day, you'll love these new Kérastase Gift Coffrets with home fragrance diffusers. The scents are delightful and more than that: they can help make you feel all the more fabulous in every room of your home. Try the range to experience each of the different fragrances in your favourite Rodney Wayne salon or Shampoo 'n' Things store.
You might also like: Before You Shampoo Your Hair Read This