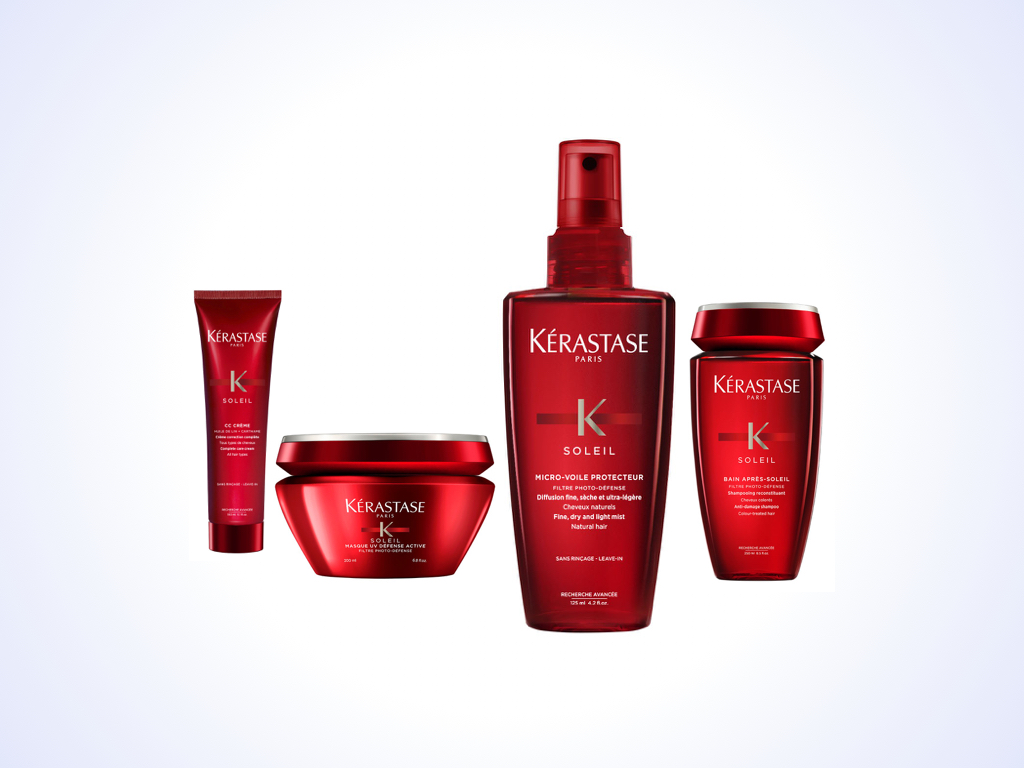 Whilst we all know about slipping on the sunscreen, sun care shouldn't stop at your skin. That's why Kérastase has designed Soleil to provide sun protection for hair with a sublime beautifying effect.
Kerastase Soleil 
Kérastase Soleil allows you to enjoy your summer months whilst protecting your hair from the damaging effects of the sun. This hair care range also offers an anti-frizz effect with shine and detangling for beautiful summer hair.
As a pioneer in summer hair protection products, the Kérastase Soleil collection combines state-of-the-art technologies developed by the expertise of the advanced L'Oréal Laboratories, to help protect and beautify your hair before, during and after sun exposure, no matter how colour-treated or sensitised your hair may be.
In addition to the post-sun repairing shampoo Bain Après Soleil and hair mask Masque UV Defense Active, the Soleil range also features two leave in, day protection products, the Micro-Voile Protecteur that fits perfectly in your handbag or beach bag, as well as a CC Crème. Whether you're spending summer in the city, or by the beach, the Soleil collection will keep your hair looking smooth and shiny.
Earn Rewards Now
Every time you buy a product or service at Rodney Wayne and every time you shop at Rodney Wayne Shampoo 'n' Things you can earn Rodney Wayne Rewards*. They're rewards that can go towards services and products at both Rodney Wayne salons and Rodney Wayne Shampoo 'n' Things. Plus you get access to extra special offers and exclusive products.
You receive 3 points for every $100 you spend on services and gift vouchers, and 4 points for every $100 you spend on retail products.
Once you've earned 10 points you'll get a $10 reward to redeem for services or products from brands like Kerastase, L'Oreal, Redken, Matrix, and ghd on your next visit. It's that simple!
Simply provide your name, email address and phone number next time you visit and you are on your way to looking and feeling even more fabulous.
Discover the full Soleil range at Rodney Wayne salons and Shampoo 'n' Things and get your sun protection for hair now.
*Terms and Conditions apply.