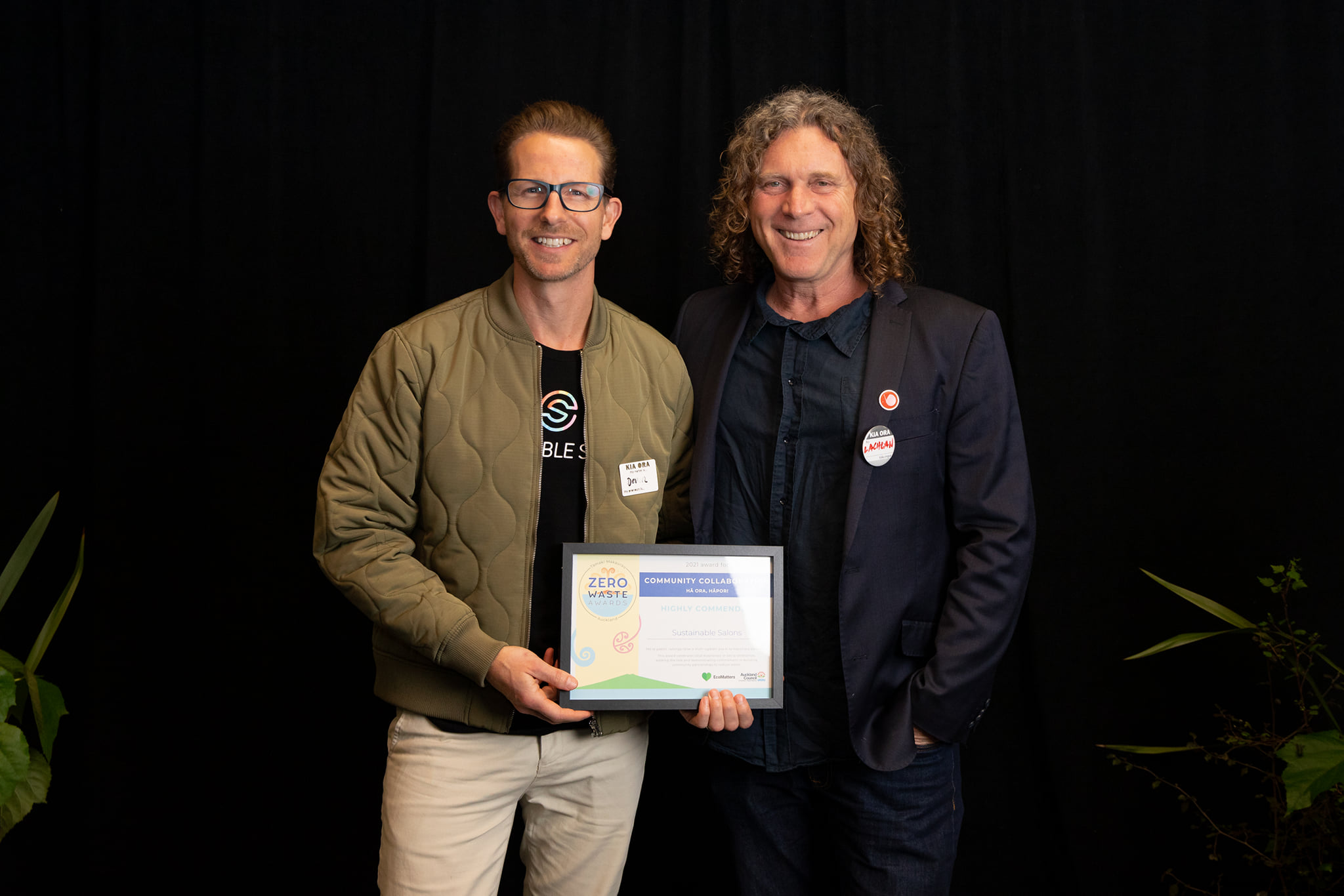 We were thrilled to be there to see Sustainable Salons receive a Highly Commended Award for Community Collaboration at the 2021 Tāmaki Makaurau Zero Waste Awards.
Sustainable Salons
Sustainable Salons is a social enterprise that helps its salon partners provide environmentally-friendly options, and are working with Rodney Wayne and other salons around New Zealand to minimise the industry's impact on the planet and invest in local communities.
On receiving the award, Devon Tong, National Manager of Sustainable Salons said, "It was a real honour for us at Sustainable Salons to be recognised amongst so many inspiring heroes in our local community. A real testament to all salons on the Sustainable Salon's program. This award is for all those salons helping make real change in our industry"
Rodney Wayne CEO Julie Evans added, "We are delighted to support Sustainable  Salons and thrilled to see them receiving well-deserved recognition for their great work in helping us all move towards a zero-waste circular economy."
When you visit Sustainable Salons you can feel even more confident in the knowledge that:
Plastics are collected, cleaned and upcycled into new products.
All salon metals (including foil) and paper are sold for recycling, and the proceeds are donated to KiwiHarvest and OzHarvest to provide meals for hungry people.
Hair is collected from the salon floor and stuffed into stockings to make Hair Booms that can one day help clean up oil spills along our coastlines.
All collected ponytails 20cm or longer are distributed to charitable organisations to create wigs for those suffering from cancer or alopecia.
You can find out more about Sustainable Salons here.
We look forward to seeing you soon. Until then keep up with the latest hair and haircare news by following us on our Instagram and Facebook.
Image: Sustainable Salons National Manager Devon Tong with Rodney Wayne Brand Builder Lachlan McPherson