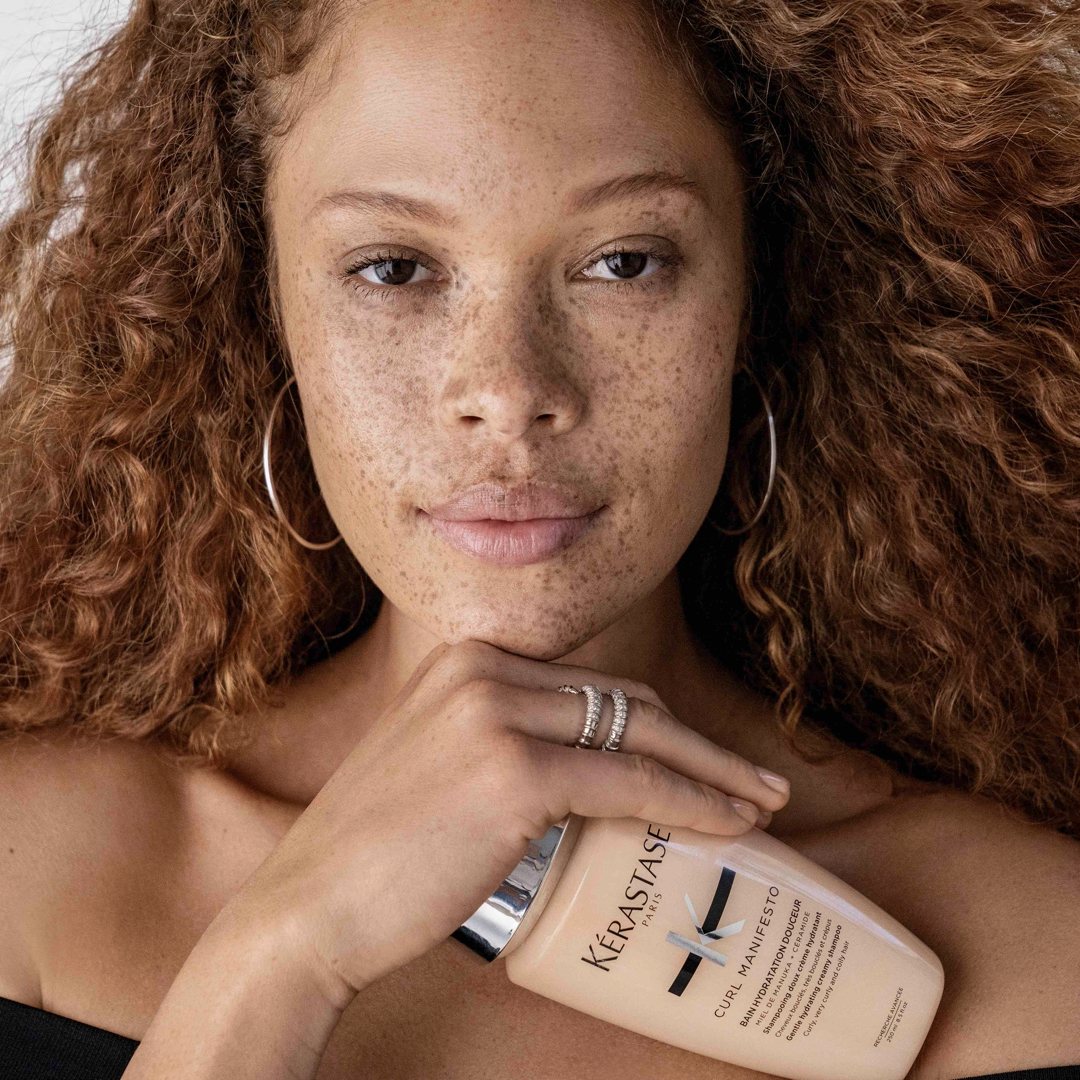 Embracing your natural curls has never been cooler, but as anyone with curly hair will know – whether it's short or long – maintaining them is quite the art. However, with the right products and a few helpful hacks from experts, achieving defined and frizz-free curls need not be stressful.
Letting your kinks loose with abandon is often easier said than done. Unlike straight hair, curly hair often comes with its own unique set of challenges, among them, an increased likelihood of breakage, frizz, and dryness. The bottom line? Curls can only be as good as the products you use. To help narrow down your search for the best curly haircare, we tapped some of Rodney Wayne's top hairdressers for their curly hair routine recommendations. From shampoos to leave-in treatments, read on for an expert-endorsed curl kit for healthy, bouncy and enviably glossy curls.
So, what sets your typical shampoo and conditioner apart from curl-specific haircare? Put simply, at-home haircare specifically tailored to curly hair is purpose formulated to give curls what they need. Enter Kérastase Curl Manifesto – a collection of products that respond to the desires and challenges of coily, wavy and curly hair. 
Formulated with a unique combination of hydrating, strengthening and defining ingredients to intensively boost the integrity of curly hair. Hydrating Manuka honey, cementing ceramide and defining glycerin, work together to respond to the specific needs of curly tresses. "I've been recommending the range to my curly-haired clients as it provides control without weighing it down," says Newton Cook, Creative & Education Director at Rodney Wayne. Milly Briant, a Rodney Wayne Artistic Team Member and self-confessed 'nightmare' when it comes to what she seeks from haircare, also attests to its results. "From the first use of Kérastase Bain Hydratation Douceur Shampoo, my hair felt indescribably silky, despite the range being so lightweight – I swear I could have got a fine-tooth comb through it."
The Curl Manifesto collection
There are seven products in the Kérastase Curl Manifesto range, which work in synch to soften hair, enhance curls and reduce frizz.
1. Bain Hydratation Douceur Shampoo: A gentle and creamy sulphate-free, silicone-free cleansing shampoo
2. Fondant Hydratation Essentielle Conditioner: A lightweight moisture replenishing conditioner
3. Masque Beurre Haute Nutrition Hair Mask: An extra-rich nourishing hair mask treatment
4. Crème De Jour Fondamentale Hair Cream: A daily moisturising anti-frizz leave-in hair treatment
5. Refresh Absolu Redefining & Restyling Spray: A second day curl refreshing spray, which is ideal for refreshing bedhead hair, according to Milly.
The verdict
For Milly's dense, medium-to-coarse, naturally very curly and frizzy hair, her ideal haircare delivers a silky, frizz-free and buttery texture. "For someone whose hair often resembles Donnie from The Wild Thornberrys (dragged through a bush), it's definitely no easy feat," the award-winning editorial hair stylist of the year jokes.
The result? An instant hit. "For the entire day my hair was controlled and protected from frizz but still bounced with natural movement," said Milly. She also commented on its visible shine-inducing properties and silky feel. 
One of the surprising standouts for Newton was the Crème De Jour Fondamentale Hair Cream. "It's great because its heavy enough to keep your hair tamed and frizz-free but also light enough to maintain its natural volume and bounce." What's more, it carries a heat protection of up to 230 degrees, so if your curls drop throughout the day, you can easily top-up with your ghd thin wand without worrying about damage.
Shop the Kérastase Curl Manifesto collection at Rodney Wayne salons and Shampoo 'n' Things stores or online here.